Kevin Feige Talks 'Ant-Man,' 'Guardians 2,' Says 'Dr. Strange' Starts Production Spring 2015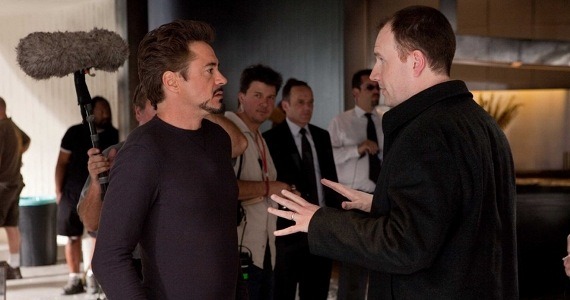 Lots has happened at Marvel Studios since the release of Captain America: The Winter Soldier. Plenty of news has leaked about Avengers: Age of Ultron and we've seen more and more about Guardians of the Galaxy. But the two biggest pieces of news were Edgar Wright leaving Ant-Man and Scott Derrickson boarding Doctor Strange. Unfortunately, since the studio is between films, we haven't heard what the president of the studio, Kevin Feige, had to say about any of it. Until now.
Feige was at CineEurope earlier this week and finally addressed the Edgar Wright Ant-Man controversy (Peyton Reed is now directing), the hiring of Derrickson, production on Doctor Strange, and said they have some ideas for Guardians of the Galaxy 2. Read Feige's quotes below.
Total Film was in attendance at CineEurope and posted Feige's quotes.
On Ant-Man:
Ant-Man is still going to come out on 17 July [2015], we start filming this August. Edgar Wright, who I've known for many years, who wrote the draft with Joe Cornish – much of the movie will still be based very much on that draft and the DNA of what Edgar has created up to this point, but Peyton Reed has stepped in [to direct].
Adam McKay, a very good writer, is reworking parts of the script – not the entirety of the script, but some of it – and it's going to, we believe, come to life in the best version of Ant-Man that we could possibly make. Again Ant-Man is a very important character for us. We like that people don't necessarily know what it is, we like that it sounds sort of strange when you first hear the notion of Ant-Man, or a hero that can shrink, but he's a very key Marvel character. He's a key Avenger. He's an important character we want to bring into our universe and Paul Rudd, Michael Douglas and an amazing cast all set to start in August, we believe that we're on the road to the best version of Ant-Man that we could have.
On Dr. Strange:
Scott Derrickson has been announced as the director. Doctor Strange is a character that I've been interested in for many, many years and that I've talked about in interviews for probably 14 years, because I believe it's very, very important for us to explore every nook and cranny of the comic-book universe. We've done the street-level heroes, and we've done the billionaire superheroes [on Earth]. We've now done the cosmic side with Thor and Avengers and most obviously with Guardians. But there's a whole other side of the Marvel comics, which is that supernatural side, the interdimensional side of the Marvel universe. Doctor Strange is, I believe, our entry point into that other realm, which has dozens of characters and storylines all of its own.
So Strange is very, very important, not just because it's an amazing character study, and a journey of a man who's gone from this very arrogant surgeon to somebody who is quite zen and literally keeps all of reality together on a daily basis, but it also is going to open up a whole other side of storytelling for our movies. So we're about to hire a writer to redo a draft, and we think we'll be casting probably in the next month or two, and announcing an actor, and then we get into production in the spring of next year.
We now know that writer is Jon Spaihts, as announced a few days ago.
Feige also talked about a bunch of other things – Thanos, Netflix, and the potential of making a sequel to Guardians of the Galaxy:
There are dozens and dozens of Guardians Of The Galaxy storylines – there's a group that came about in the '60s, they were revamped again in the '80s and they changed into this incarnation that you see in this movie about eight or nine years ago. So there are a lot of other characters and worlds and stories. So should this film work, should the audience come out for this one, there are definitely places we can take it and we have ideas of where we'd like to go with it, but really all the energy goes into the first movie first.
Head to Total Film to read more of Feige's quotes. For now though, what do you think? Anything surprising?