Marvel Casts Rosario Dawson In 'Daredevil'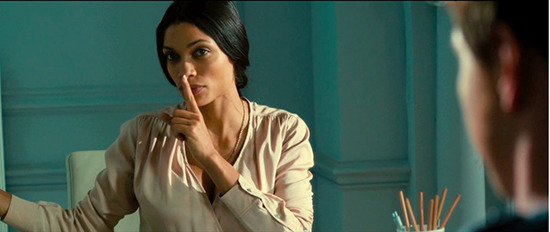 The third major role in Daredevil has been cast; we just don't know what the role is. Charlie Cox is the blind attorney Matt Murdock, who is also the crime-fighting Daredevil. And Vincent D'Onofrio is Wilson Fisk, known in comics circles as the Kingpin of Crime. Now Marvel has cast Rosario Dawson in Daredevil, giving her a major role that will see her appearing in multiple episodes. Is she Elektra? Perhaps she's Echo? More info below.
Marvel reports the scoop, saying that Dawson plays "a pivotal role, appearing in multiple episodes." 
No name is mentioned, but the site says this:
Rosario Dawson will play a dedicated young woman whose quest to heal the wounds of Hell's Kitchen brings Matt Murdock unexpectedly crashing into her life, while her own journey forever alters the course of his battle against the injustices of this broken city.
OK, that's pretty broad. Jeph Loeb, Marvel's Head of Television, said,
Rosario Dawson is one the most charismatic, talented and powerful actresses in Hollywood, so she was always at the top of our list for 'Marvel's Daredevil. Her role in the series is absolutely critical to Matt Murdock's journey to become the hero we know as Daredevil.
That also doesn't give us much to go on.
Dawson has the physical ability to play Elektra, the assassin who has played a big part of Daredevil's life. I'd love to see her in the role, too. But that doesn't sound like the role hinted at in those two quotes above.
Karen Page, the woman who starts out as Murdock's secretary before becoming addicted to heroin and selling info about Daredevil's secret identity, sounds like it could be closer to the hints above. But that whole storyline (presented in the 'Born Again' trade, should you want to read it) is something better saved for a later Daredevil series. She could still be Page, but at this point I suspect not. And Dawson is such a strong performer that I'd kinda hate to see her play the later stages of Page's story.
More likely is that Dawson is playing Maya Lopez, aka Echo, a woman who initially works for the Kingpin before falling for Murdock. Echo is deaf, and manages to suss out Daredevil's own secret, prior to realizing that he and Murdock are the same person. Echo would be a good character to appear in several episodes of the show, and her own storyline offers a chance for her to be logically written out, rather than continuing into the next set of Netflix shows.
Given that the release info is so vague, what I'm really wondering about is the idea of Dawson playing Jessica Jones, who in comics is the superhero-turned-investigator. Jones will soon get her own show, and Dawson would be a terrific lead. Little of the creative team is announced for that show at this point, but introducing Jones in Daredevil would make sense. Why not release the name of Dawson's character now? If she's going to be local only to this series, keeping her character under wraps doesn't make much sense.
Steven S. DeKnight (Spartacus) is acting as showrunner after the departure of Drew Goddard, who still has a consultant role, and who wrote the pilot script.
Daredevil is the first of the Marvel Studios series that will run on Netflix. The 13-episode show will premiere in 2015. Following it will be Jessica Jones, Iron Fist and Luke Cage, with a wrap-up story in the miniseries The Defenders.
Daredevil follows the journey of Matt Murdock, who was blinded as a young boy but imbued with extraordinary senses, now fighting against injustice by day as a lawyer, and by night as the super hero Daredevil in modern day Hell's Kitchen, New York City.