Rian Johnson To Write And Direct 'Star Wars Episode VIII'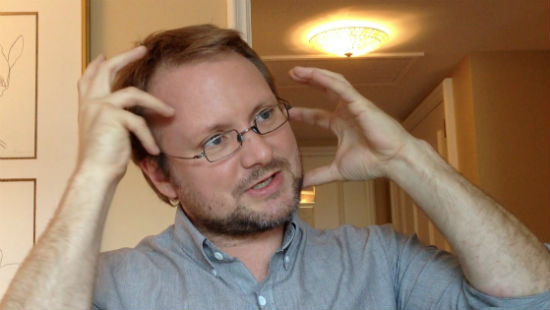 As J.J. Abrams continues to work on Star Wars Episode VII, it seems his successor is about to get to work on the next major chapter in the ongoing Star Wars series. Looper writer/director Rian Johnson is expected to be announced as the writer and director of  Star Wars Episode VIII. Initial reports said he was going to direct Star Wars Episode IX as well, but that doesn't seem to be the case. He will, however, write a treatment for that third episode. More info is below.
Deadline broke the massive, exciting news, and The Wrap added the specific info about Episode IX. Lucasfilm could be making it official any moment.
Johnson himself, however, did kind of make the news official by tweeting this clip:
Whether he's doing Episode VIII, Episode IX or both, this is a huge step up for Johnson, and a big statement from Lucasfilm. Hiring J.J. Abrams made sense in a way. He was already a blockbuster filmmaker. Hiring Gareth Edwards and Josh Trank, too, made sense because they are each making, or had made big movies.
Hiring Johnson says "We want a filmmaker who can bring real gravitas to the series. A filmmaker whose work has been anything but conventional." He'll have to make something somewhat conventional with Episode VIII, of course, but with several years to work on a screenplay you can bet Johnson will infuse it with the passion and talent he's shown in spades through his first few films.
Johnson's first film, Brick, cost $500,000 and was a unique, dense, teen crime drama. His second film, The Brothers Bloom, was a slightly bigger (and very fun) caper film starring Mark Ruffalo and Adrien Brody. Then there was Looper, a $30 million sci-fi time travel film that showed a huge evolution in both Johnson's writing and directing style. He's also done some of the best-ever episodes of Breaking Bad.
We'll have more on this story as it develops and potentially becomes official.
While we wait on that, check out this exchange between Star Wars spinoff writer Gary Whitta and Johnson a few weeks back.