Mark Wahlberg Hints At 'Entourage' Sequel And Earlier Release Date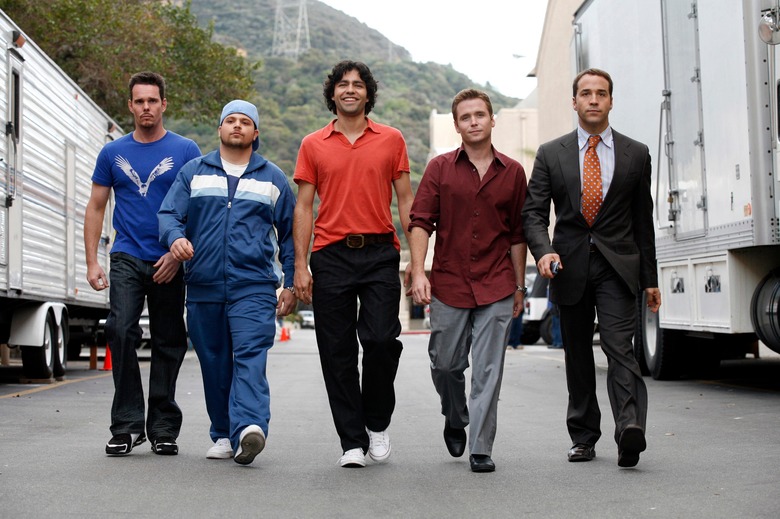 Most of next summer's big releases are still filming. One, however, is already done. That's Entourage, the film version of the hit HBO show executive produced by Mark Wahlberg. Writer, director and creator Doug Ellin finished principal photography a few weeks back and just screened a rough cut for the actor. Seems that Wahlberg loved it. A good surprise is just how much he loved it. Wahlberg said the film is so good, he thinks it might be worth releasing before its planned June 2015 release date, and that Ellin should start thinking about a sequel.
Access Hollywood (via Latino Review) spoke to Wahlberg at the junket for Transformers: Age of Extinction:
'Entourage,' I just saw the movie. It's fantastic. The stakes are so big. You're rooting for these guys to succeed. There's so much humor and heart in it and [director] Doug [Ellin] just did an amazing job. I don't think we're going to be able to wait a year to release the movie. We're going to show the studio sooner, rather than later, he explained. If it makes most sense to wait until June, we'll wait until June.
Now, that's obviously not his call. It's Warner Bros., who'll distribute and market the film. Honestly, if the movie is that good, Warner Bros. will have no problem holding it a year until the summer. That's a prime, competitive release date. If it gets moved into like January or something, I'd be worried. When a film is finished rarely has a bearing on its release date. (Though, June 2015 is so competitive, it's impossible to equate quality to release).
More from Wahlberg:
I told Doug, 'Let's not wait for the movie to come out to start planning the next one because this is definitely going to be a big success,'" he said. "If I have anything to do with it there will be."
Ellin took a long time to crack a story of a film – which centers on mega star Vincent Chase (Adrien Grenier) becoming a director – so it would probably take equally as long for the inspiration to make another film. One would imagine, audience demand would also play a big factor. But, beginning to think about it now – a year away – is probably a good idea just in case.
Now, we're all smart movie fans. What is Wahlberg – a financially vested producer on the movie and inspiration for the series – going to say about Entourage a year out? "It's crap, we have a lot of reshoots to do?" "The third act isn't quite working?" "We exposed a whole roll of film on a crucial scene?" (Yes, they shot it on film). No, he's not going to mention any problems if there are any. He's going to be super positive. But, as a fan of Entourage and one of the many truly excited for the movie, the fact he might be being honest here is very encouraging.
We'll have more on Entourage the movie over the coming months. For now, do you think anything will change?