Rumor: 'Bourne 5' Was Delayed To Bring Back Matt Damon [UPDATED]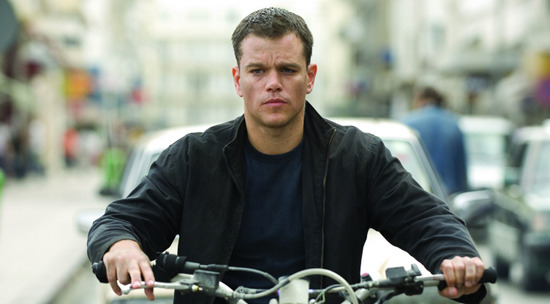 UPDATE: Producer Frank Marshall has issued a straightforward denial that Matt Damon will be back for Bourne 5. More info below after the original story text.
Universal didn't offer an official explanation when it announced this week that Bourne 5 had been pushed back a year to 2016. But the rumor mill, as usual, is happy to fill in the blanks.
The latest (unconfirmed) word is that Bourne 5 was delayed to accommodate a busy star. No, not Jeremy Renner. Matt Damon. Hit the jump for more on Damon's possible return.
Rumors of Damon returning to the Bourne franchise have cropped up every several months for the past, oh, seven years or so. And it's possible this one won't pan out either. THR, for one, pins the Bourne delay on Straight Outta Compton, which Universal wants to open next summer.
For his art, Damon has continually maintained that he'd be "open" to a return provided that 1) Paul Greengrass can return as well and 2) they can come up with the right story.The first of those conditions clearly hasn't been met, since Justin Lin is still set to helm. However, Greengrass doesn't seem all that interested in the franchise anymore anyway. So maybe the right story (and the right paycheck, no doubt) was enough to bring Damon back.
Or perhaps, as Latino Review's source suggests, Damon just needs a win. Monuments Men and Elysium weren't total flops, but neither one set the box office on fire, either. With Damon, Renner, and Lin on board, Bourne 5 would be a guaranteed hit.
The as-yet-untitled fifth Bourne movie is scheduled to open July 15, 2016. That date puts it up against Ice Age 5, which is much steeper competition than you might think. The last Ice Age made an amazing $877 million at the box office, or over three times what The Bourne Legacy did.
Update: Scratch this one, as Frank Marshall has given a flat-out denial of the story.
It's simply not true. [...] Justin Lin is working with Andrew Baldwin on an Aaron Cross script/story that they pitched us a few months ago. I talk to Justin all the time and the script is not ready. It's a summer movie, and if we don't start pre-production now, we can't make next summer. Therefore, it's a wise decision to move to 2016.
Sounds reasonable enough, though of course there's always the chance he's lying.