'They Came Together' Clip: Ed Helms Has The Hots For Amy Poehler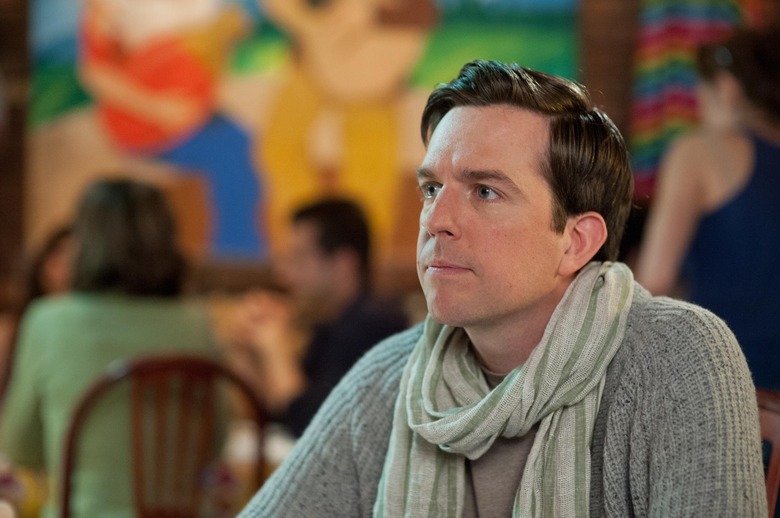 Amy Poehler and Ed Helms were on the same NBC Thursday night comedy block for five seasons, but somehow they've never actually appeared onscreen together until David Wain's They Came Together.
The latest clip from the romcom parody features Poehler as a quirky candy shop owner, and Helms as the accountant who has the hots for her. Obviously, any romance between them is doomed to fail since he's not the one whose face is on the poster. (Paul Rudd is.) But don't let that stop you from enjoying the supremely awkward way he makes his move. Watch the latest They Came Together clip after the jump.
While this particular scene is all about Poehler and Helms, the sprawling cast includes stars from all over NBC's comedy lineup — and CBS', and Fox's, and ABC's. There's How I Met Your Mother's Cobie Smulders, New Girl's Max Greenfield, Saturday Night Live's Bill Hader, The Office's Ellie Kemper, 30 Rock's Jack McBrayer, and Trophy Wife's Michaela Watkins — along with several Wain regulars like Chris Meloni, Michael Ian Black, and Ken Marino.
They Came Together opens in theaters and on VOD June 27.
When Joel (Paul Rudd) and Molly (Amy Poehler) meet, it's hate at first sight: his big Corporate Candy Company threatens to shut down her quirky indie candy shop. Plus, Joel is hung up on his sexy ex (Cobie Smulders). But amazingly, they fall in love, until they break up about two thirds of the way through, and Molly starts dating her accountant (Ed Helms). But then right at the end...well you'll just have to see. (Hint: Joel makes a big speech and they get back together.) From the director of Wet Hot American Summer, Wanderlust and Role Models comes a hilarious and irreverent subversion of the romantic comedy genre.