'About Alex' Trailer: Aubrey Plaza Leads A Millennial 'Big Chill'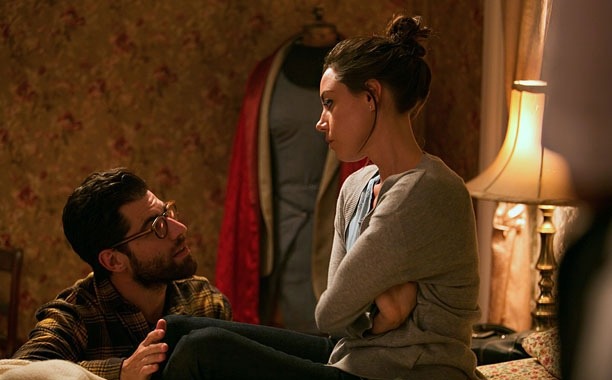 Jesse Zwick's About Alex isn't technically a remake of The Big Chill, but it might as well be. Both films center on groups of college friends who reunite when one of their own, named Alex, tries to kill himself. The difference is that in About Alex, he's not successful.
Concerned, Alex's friends plan a getaway weekend so that they can keep an eye on him. Drama predictably ensues as old attractions and new tensions bubble to the surface. Jason Ritter plays the title character, and Aubrey Plaza, Max Greenfield, Maggie Grace, Jane Levy, Max Minghella, and Nate Parker round out his clique. Watch the About Alex trailer after the jump.
Despite the fact that most of the About Alex cast was in diapers when The Big Chill hits theaters, the About Alex trailer is obviously obsessed with its predecessor. There's literally a scene in which one character chirps, "This is just like one of those '80s movies!" And then, in case anyone still hasn't caught on, there's also a review pullquote declaring About Alex "The Big Chill for millennials."
All that said, About Alex also looks charming and sweet, and that star-studded cast certainly seems worth a look. Plaza and Greenfield are best known for their sitcom work — she's on Parks & Rec, he's on New Girl — so it should be interesting to see if they're up to the task of shouldering some heavier material.
About Alex hits theaters and VOD August 8.
In ABOUT ALEX, a circle of twenty-something friends reunite for a weekend away after one of them suffers an emotional breakdown. Despite the group's best efforts to keep it light and enjoy themselves, a tinderbox of old jealousies, unrequited love, and widening political differences leads to an explosion that, coupled with the flammable combination of drugs, wine, and risotto, cannot be contained. An honest appraisal of adult friendship for our current social media moment, ABOUT ALEX is a lighthearted look at the struggles of a generation that has it all – and wants more.