'Dear White People' Teaser Trailer Explains The Real Meaning Of 'Gremlins'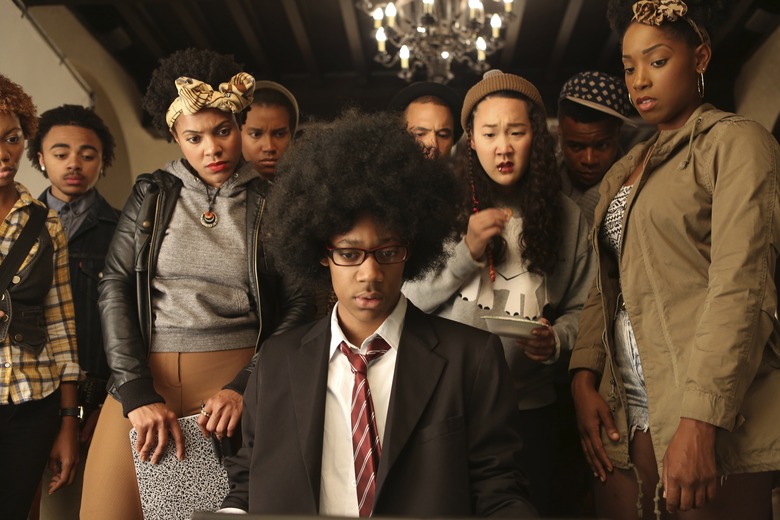 Dear White People made a splash at Sundance as a well-liked, funny satire about race relations in modern America. The first Dear White People teaser trailer has just arrived, and you'll see pretty quickly why Sundance audiences liked the movie. Writer/director Justin Simien makes his debut with the film, and he's got a funny and frank voice, and is willing to poke at sensitive topics with humor and energy. And just to make sure the broadest possible audience gets behind this ad campaign, there's a great gag in the trailer about the real meaning of Gremlins. Watch the teaser below.Dear White People opens on October 17. Trailer via Roadside Attractions.
Winner of the 2014 Sundance Film Festival's Special Jury Award for Breakthrough Talent, Dear White People is a sly, provocative satire of race relations in the age of Obama. Writer/director Justin Simien follows a group of African American students as they navigate campus life and racial politics at a predominantly white college in a sharp and funny feature film debut that earned him a spot on Variety's annual "10 Directors to Watch."
Dear White People stars rising talents Tyler James Williams ("Everybody Hates Chris," Peeples), Tessa Thompson (For Colored Girls, "Veronica Mars"), Teyonah Parris ("Mad Men," They Came Together), Brandon P. Bell ("Hollywood Heights"), Kyle Gallner (A Nightmare on Elm Street, CBGB), Malcolm Barrett (The Hurt Locker), Brittany Curran ("Chicago Fire"), Marque Richardson ("The Newsroom") and Dennis Haysbert ("24," Far From Heaven).