Reaction: Harry Potter And The Escape From Gringotts Is Amazing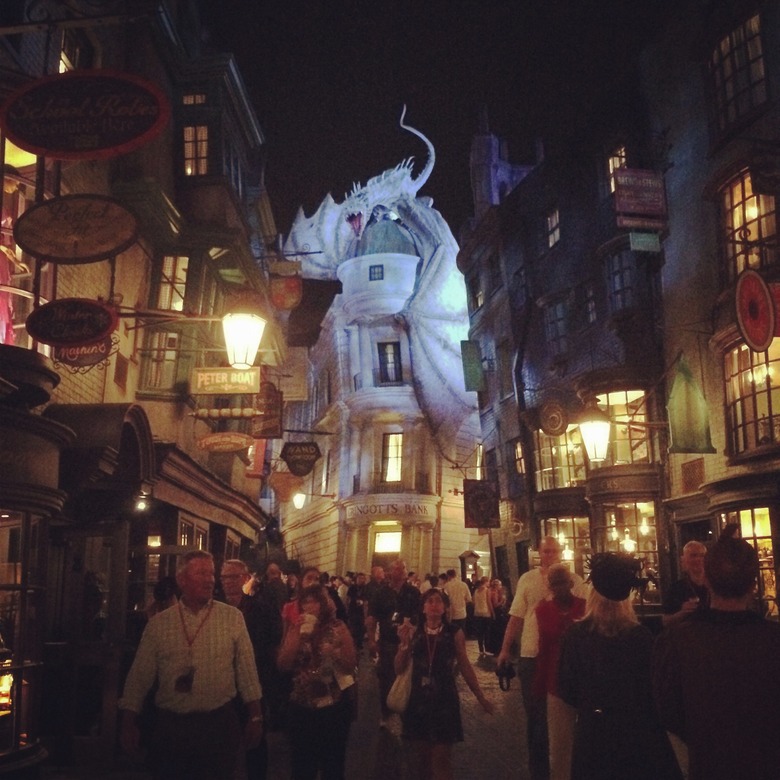 Last night I attended a special advance preview of Universal Orlando's The Wizarding World of Harry Potter Diagon Alley expansion. The new land, which opens in Universal Studios Orlando park on July 8th 2014, is incredible. I'll detail the land further in future posts, but for now I will say this — its much bigger than you could ever expect and contains so much entertainment, so many cool experiences, and pieces of unique merchandise and cool food options. Its truly magical.
But this morning I thought I should give you my first impressions of Harry Potter and the Escape from Gringotts, the new flagship attraction which is the center of the new Diagon Alley expansion. Hit the jump to read my Gringotts ride review.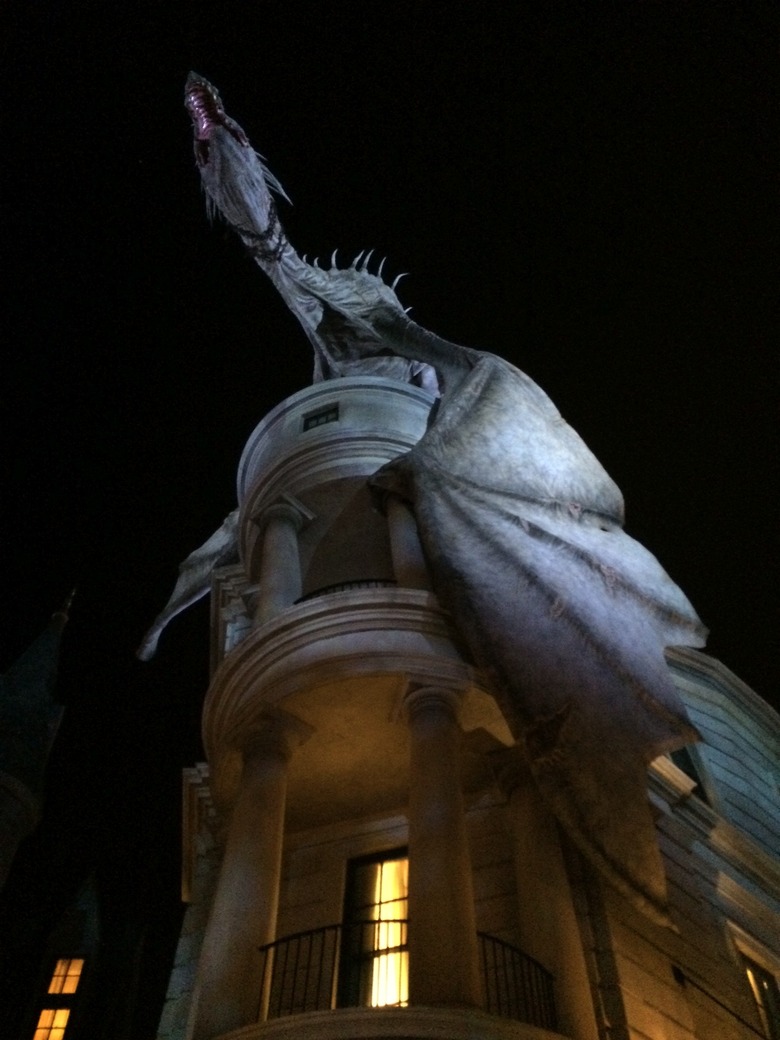 Harry Potter and the Escape from Gringotts Ride Review
(First off: I apologize for the lack of photos in this update. Cameras were not allowed in last night's events, so I am limited to a couple snaps from my iPhone. That doesn't do too well in the low light of nighttime.)
This is the most complex theme park ride I've ever experienced, with so many moving parts. So much so, that many people I talked to at the event didn't get to ride the attraction because it was closed (apparently the ride has an 18 minute safety reboot procedure anytime something goes wrong, so if something goes wrong it can create extended lines). I'm sure the reason Universal picked July 8th as the official opening of the new land is because they want to iron out all the issues before regular park visitors get on the ride.
But when the ride works as intended, Harry Potter and the Escape from Gringotts is the most amazing themed experience offered in the world.
When the ride was first announced, Universal creatives were unable to explain what kind of ride Gringotts even was. The reason for that might be that the ride is unlike anything you've ever seen before, at least in a single ride. Its a frankenstein assembly of at least 8 different other rides.
The main ride features a rollercoaster car on a metal track that can go very fast, but changes speed depending on the scene of the story. Not only does it change speed, but the car itself can go backwards, or sideways — it can even spin. On top of that, imagine a track system that moves and changes as you ride it. It can disconnect, drop, rise, or swing onto another track
Now imagine the roller coaster car is also a motion simulator, able to rumble and tilt back and forth. As in the Transformers or Spider-Man rides, you travel in the car from scene to scene. In this ride that can sometimes be an immersive experience projected on huge screens in 3D, sometimes completely surrounding you.  Other times projected characters are combined with practically built sets and props. The ride also features water, heat, fog, and cold effects.
Like I said, its unlike anything you've ever seen before. The storyline involves you touring the Gringott Bank vaults as Harry, Ron, and Hermione stage a heist. Voldemort, Bellatrix among others are trying to stop Harry and friends. (You're among the friends.) I won't go into further plot spoilers as I don't want to ruin the fun, as its something you must experience for yourself.
The ride is not as scary as Forbidden Journey, the first Harry Potter ride that put guests face-to-face with Dementors, but I'd argue it can be more intense. From start to finish, the experience is the most immersive experience offered by any theme park ever created. And at this point I should mention that the experiences is more than just the ride. Anyone who has visited Forbidden Journey in the original Wizarding World knows that the experiences in line can almost be as much fun as the ride itself.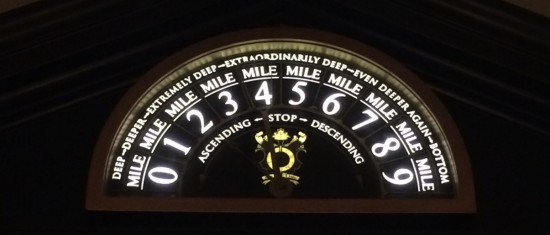 At Gringotts, guests will step into the goblin-run bank to see a room full of animatronic goblin bankers hard at work. They will get their photos taken for custom Gringotts badges that can be purchased at the conclusion of the ride. Guests will board an elevator that will take them miles down below (as seen above on the elevator dial) into the Gringott vaults. It's a waiting room that, with effects and movements, feels like a ride. And guests will get more of Forbidden Journey-style projected characters mixed with live set environments.
The whole Gringotts experience may be worth a trip back to Orlando alone. But Gringotts is only a single piece of the new expansion which includes two different Hogwarts Express ride experiences, the incredible new Diagon Alley themed land which packs a ton of magic. But we'll have more on those later.
Check out my other articles on Universal Orlando's The Wizarding World of Harry Potter Diagon Alley expansion: