Watch The Final 'Dawn Of The Planet Of The Apes' Trailer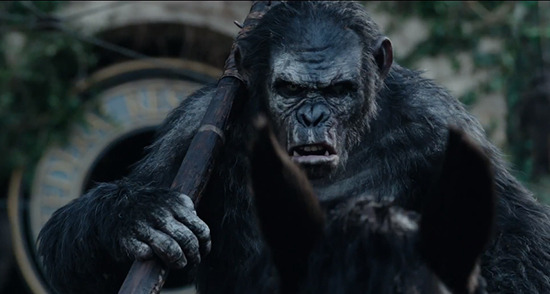 It's less than a month until we return to an Earth that has been dramatically reshaped into a place that could soon be called a planet of the apes, and Fox has released one last big look at its latest chapter in the long-running saga. Half of this final Dawn of the Planet of the Apes trailer is all about brewing conflict and watching humanity further lose hold on the planet.
And then things just explode, and that war that Caesar talks about in his steadily-improving speech just explodes. A lot of the footage here is stuff we've seen before, but that's OK; it's good to save the best stuff for the final film. And Matt Reeves' sequel to the surprise hit from 2011 looks like it firmly takes the reins of the story in a way that could be very satisfying for Apes fans, indeed. 
And here's the international version:
Dawn of the Planet of the Apes opens on July 11. Trailer via Fox.
A growing nation of genetically evolved apes led by Caesar is threatened by a band of human survivors of the devastating virus unleashed a decade earlier.  They reach a fragile peace, but it proves short-lived, as both sides are brought to the brink of a war that will determine who will emerge as Earth's dominant species.