'Gotham' Villains Trailer: Spotlighting The Bad Eggs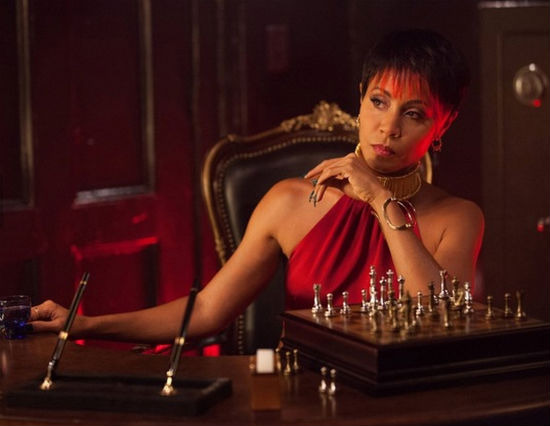 We've seen plenty of Gotham footage at this point, and even heard quite a few positive reactions to the pilot. But why not see one more trailer? This one is good, because it spotlights the villains, including The Penguin (Robin Lord Taylor), Fish Mooney (Jada Pinkett Smith), and Catwoman (Camren Bicondova).
Bruno Heller's show (with a pilot directed by Danny Cannon) also features Ben McKenzie as James Gordon, Donal Logue as Harvey Bullock, and David Mazouz as a very young Bruce Wayne. But for now, the focus is mostly on the villains, with only a little time left over for the good guys. Watch below.
Based on early reactions, Robin Lord Taylor is the one to really watch out for here. His Penguin drew far and away the best marks when Fox showed off the pilot to some critics not long ago, though Jada Pinkett Smith also earned raves.
Trailer via Fox. The first season of Gotham runs 16 episodes, which will air on Monday nights at 8pm on Fox starting this fall.
Everyone knows the name Commissioner Gordon. He is one of the crime world's greatest foes, a man whose reputation is synonymous with law and order. But what is known of Gordon's story and his rise from rookie detective to Police Commissioner? What did it take to navigate the multiple layers of corruption that secretly ruled Gotham City, the spawning ground of the world's most iconic villains? And what circumstances created them – the larger-than-life personas who would become Catwoman, The Penguin, The Riddler, Two-Face and The Joker. GOTHAM is an origin story of the great DC Comics super villains and vigilantes, revealing an entirely new chapter that has never been told. From executive producer/writer Bruno Heller ("The Mentalist," "Rome"), GOTHAM follows one cop's rise through a dangerously corrupt city teetering on the edge of evil and chronicles the birth of one of the most popular super heroes of our time.