Jason Isaacs Is The Inquisitor In 'Star Wars Rebels' [UPDATED WITH VIDEO]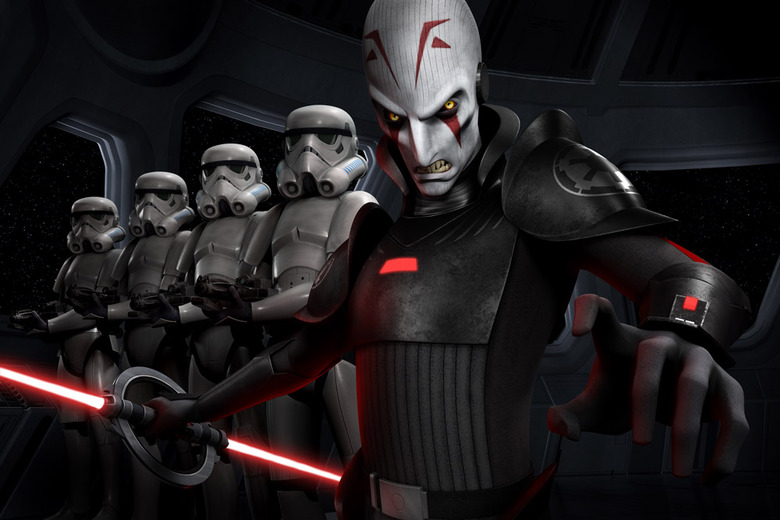 UPDATE: This article was written on June 18 but has now been confirmed by Entertainment Weekly. Update below with new video.
As fans speculate about the villains in Star Wars Episode VII, we know at least one bad guy created in this post-George Lucas universe. His name is The Inquisitor and he's a lean, mean, lightsaber-swinging, Jedi-killing machine. In the Disney XD show Star Wars Rebels, set between Star Wars Episode III: Revenge of the Sith and Star Wars Episode IV: A New Hope, he's tasked by Darth Vader to hunt down the remaining Jedi.
The Inquisitor was the first character introduced from Rebels; since then, we've met the entire remaining cast and their human counterparts. During all that, we have yet to find out who will be voicing the Inquisitor. Now, a rumor has surfaced that Jason Isaacs, of Harry Potter and The Patriot fame, will be voicing the character.
UPDATE: Entertainment Weekly has the confirmation. Issacs is The Inquisitor. Original story follows this new video.TheForce.net first reported the rumor. We contacted Lucasfilm and Disney XD for comment and while we haven't heard back from Lucasfilm, a Disney XD spokesperson said the following:
We don't have any additional casting announcements on Star Wars Rebels to make at this time.
Not a denial, nor a confirmation. Which these days is a pretty good clue.
Many of the recent rumors surrounding the live action Star Wars films suggest the Inquisitor, and his methods, could play some major role. We don't know for sure, obviously, but we do know he's a character that's not to be taken lightly, either by the characters on Rebels or by fans looking for clues.
You can hear the Inquisitor briefly at the end of this trailer and it definitely sounds like it could be Isaacs. I guess we'll have to wait and see to be sure though.
Star Wars Rebels will premiere on Disney Channel with two part pilot before continuing on Disney XD in the Fall. Here's the official description.
Starring a small band of heroes — Sabine, Kanan, Hera, Ezra, Zeb, and Chopper — Star Wars Rebels is set in a time where the Empire rules through fear and shrouds the galaxy in darkness.
Star Wars Rebels takes place between Star Wars: Episode III and IV as the Empire tightens its grip on the galaxy and a rebellion begins to form. The series, executive produced by Dave Filoni, Simon Kinberg, and Greg Weisman, is scheduled to premiere in fall 2014 as a one-hour special telecast on Disney Channel and will be followed by a series on Disney XD.