See N.W.A In The First 'Straight Outta Compton' Cast Photo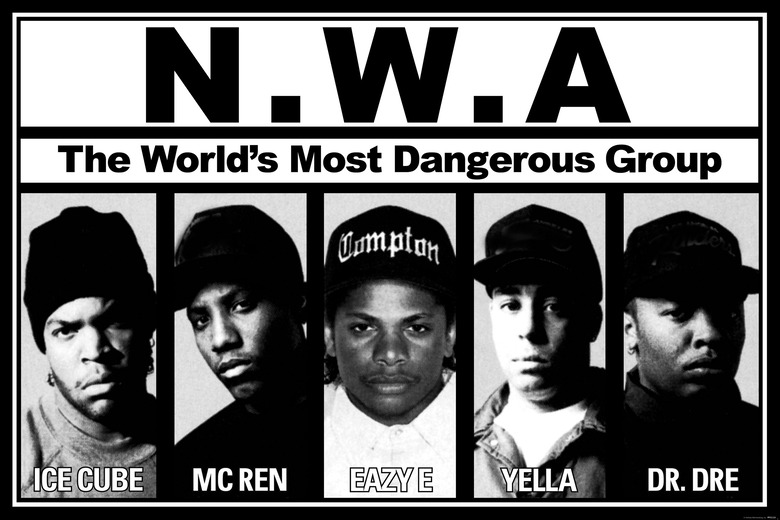 The casting choices for the three core characters in Universal's N.W.A biopic, Straight Outta Compton, were just leaked over the past few days – or we thought they had been. Now, Universal has put out an official release for the film, and there's a key difference. Yes, Ice Cube's son O'Shea Jackson Jr. will play Cube, and Jason Mitchell will play Eazy-E.  Contrary to previous reports, however, Corey Hawkins will be on screen as Dr. Dre. Now Universal has given the film a release date, and released the first Straight Outta Compton cast photo. See that pic below.
Straight Outta Compton will hit theaters on August 14, 2015, with F. Gary Gray (Friday, Set It Off, The Italian Job) directing.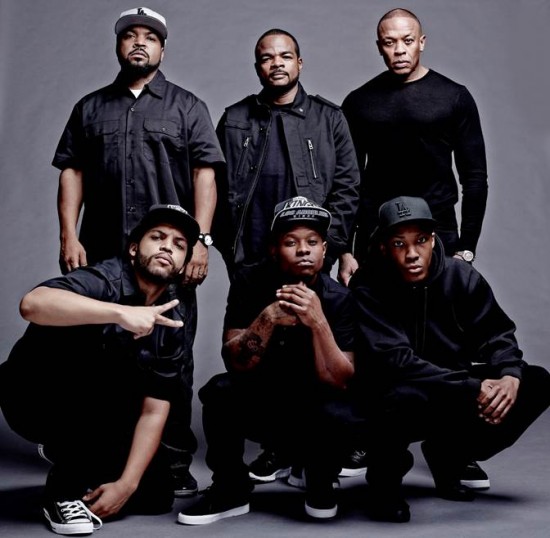 In that photo you see, clockwise from top left, producer Ice Cube, director F. Gary Gray, producer Dr. Dre, Corey Hawkins (Dr. Dre), Jason Mitchell (Eazy-E) and O'Shea Jackson Jr. (Ice Cube).
Here's the official info from Universal:
In the mid-1980s, the streets of Compton, California, were some of the most dangerous in the country.  When five young men translated their experiences growing up into brutally honest music that rebelled against abusive authority, they gave an explosive voice to a silenced generation.  Following the meteoric rise and fall of N.W.A., STRAIGHT OUTTA COMPTON tells the astonishing story of how these youngsters revolutionized music and pop culture forever the moment they told the world the truth about life in the hood and ignited a cultural war.
Starring O'Shea Jackson Jr., Corey Hawkins and Jason Mitchell as Ice Cube, Dr. Dre and Eazy-E, STRAIGHT OUTTA COMPTON is directed by F. Gary Gray (Friday, Set It Off, The Italian Job).  The drama is produced by original N.W.A. members Ice Cube and Dr. Dre, who are joined by fellow producers Matt Alvarez and Tomica Woods-Wright.  Will Packer serves as executive producer of the film alongside Gray.