A 'True Blood' Musical Is In The Works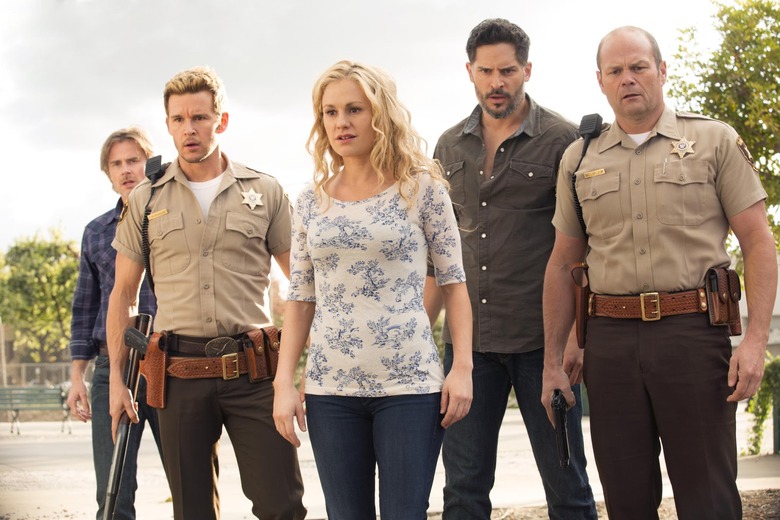 HBO's True Blood will end its run after the upcoming seventh season, but that doesn't necessarily mean we've seen the last of Bon Temps. Like the bloodsuckers it portrays, True Blood could just come back in an altered form.
Composer Nathan Barr has revealed that there's a True Blood musical in the works. While he cautions that "there's no guarantees" about the project at this point, he has already gotten as far as pitching the show. Hit the jump for more details.
Helping Barr with that presentation was True Blood star Stephen Moyer, who recently demonstrated his musical talents on NBC's The Sound of Music live telecast. Interestingly, Moyer has previously hinted at the possibility of more True Blood coming in summer 2016.
However, Barr cautions that there are "no guarantees" at this point about when and where (or even if) we'll see the show. He's only thinking as far as the workshop version, which he hopes to present in about a year. "I think the direction we're heading in is really exciting," he said.
Like the TV series, the True Blood musical will center on telepathic waitress Sookie Stackhouse (played by Anna Paquin on HBO). Barr admitted that trimming down seven seasons' worth of twists and turns was proving a challenge, but stated that he wanted to "try to return to the roots of the show."
In the meantime, True Blood's seventh and final season kicks off this Sunday, June 22, on HBO. Executive producer Brian Buckner has promised to "do our very best to bring Sookie's story to a close with heart, imagination and, of course, fun."