Watch Tim Burton's Long-Lost 'Hansel And Gretel'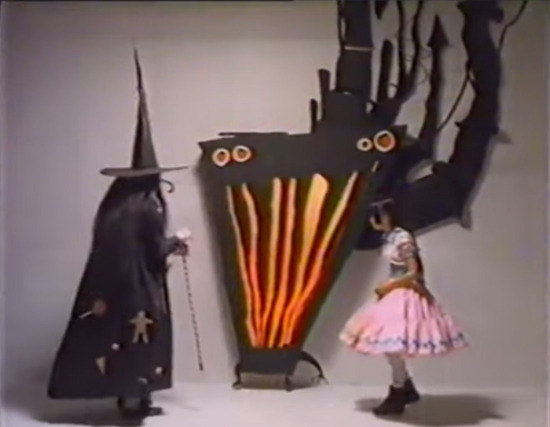 Way back in 2007, in the early days of /Film, Peter wrote about one of Tim Burton's most obscure works. The piece in question was Hansel and Gretel, a half-hour version of the Brothers Grimm fairy tale, produced as one of Burton's collaborations with Disney. This was before Frankenweenie turned everything sour, and well before Burton became a star director.
Shot in 1982 and aired once on the then-new Disney Channel on Halloween night in 1983, the short quickly disappeared. While it eventually surfaced in art exhibits at institutions such as the the Museum of Modern Art and the Los Angeles County Museum of Art, Hansel and Gretel has remained relatively un-seen.
Now Burton's odd early short is online. Watch below.
Burton was given a long leash when creating this Hansel and Gretel. He cast Asian-American actors, which wasn't quite the norm for Disney at the time. The witch's oven (above) could come right out of The Cabinet of Dr. Caligari. The film climaxes with a martial arts battle complete with nunchucks and Nickelodeon-worthy splatters of goo.
It all caps off a half-hour of entertainment that is a lot like the stuff Burton would eventually make, only in a very abstract way. There are visual trademarks such as whirling spirals, simple monster eyes and sharp teeth. And there is a bit of Kabuki theater colored with a sense of romantic absurdity that points towards Burton's more polished stuff. 
Filmed on 16mm for a budget of just over $100,000, the film is strange even by Burton's standards.
[via io9]