Warner Bros. Plotting A 'Scooby-Doo' Reboot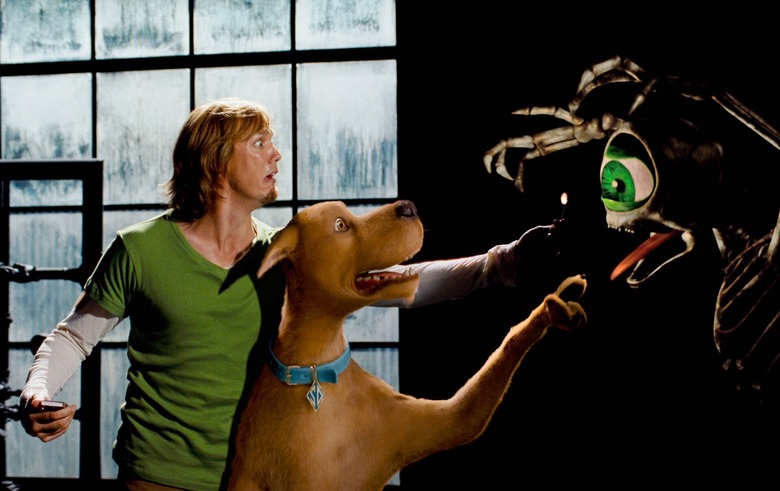 It's been ten whole years since Scooby-Doo 2: Monsters Unleashed, and you know what that means: It's time for a reboot. Warner Bros. is reportedly in the early stages of a new Scooby-Doo movie, though it's unclear at this point whether it'll be live-action or CG. Hit the jump for more details on the new project.
Scooby-Doo and his pals debuted as an animated TV series in 1969. They've been on and off the small screen ever since, launching several TV shows, specials, and direct-to-DVD films. The franchise has also spawned video games, board games, comic books, and all manner of tie-in merchandise.
In 2002, Warner Bros. released the first live-action Scooby-Doo theatrical feature, with Freddie Prinze Jr., Sarah Michelle Gellar, Linda Cardellini, and Matthew Lillard in the leads. Neil Fanning voiced the dog. Scooby-Doo made a solid $275 million at the global box office, prompting the studio to greenlight 2004's Scooby-Doo 2: Monsters Unleashed.
That one didn't do quite as well, earning $181 worldwide. Warner Bros. had had hopes for a third installment, but cancelled their plans after Scooby-Doo 2 disappointed, according to Lillard. Both Scooby-Doo live-action movies were directed by Raja Gosnell, who went on to make Smurfs and Smurfs 2, and written by James Gunn, who went on to direct Guardians of the Galaxy.
The ten-year gap between the last Scooby-Doo movie and these new plans is a small one, but it's hardly the smallest we've seen. Warner Bros. released the Superman refresh Man of Steel just seven years after Superman Returns hit theaters, and Sony's The Amazing Spider-Man arrived a scant five years after Spider-Man 3.