Jared Leto In Talks To Replace Will Smith In Legendary's 'Brilliance'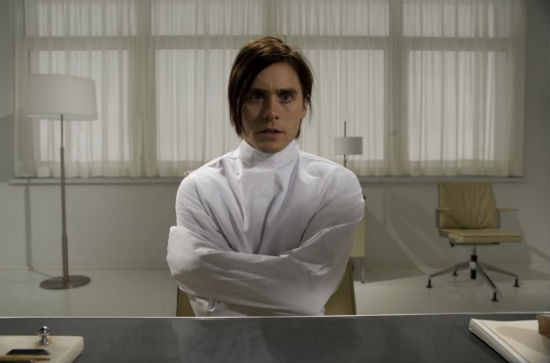 Legendary's X-Men-esque sci-fi film Brilliance lost a superstar, but could gain an Oscar-winner. The film is set in a futuristic world where some people are born with special abilities, and where one man uses his higher intelligence to hunt terrorists. It was supposed to star Will Smith. The actor dropped out, and could be replaced by recent Oscar winner Jared Leto. Noomi Rapace is still co-starring and Julius Onah will direct.
Deadline broke the news of Leto potentially replacing Smith, saying the actor is now in talks for the job. Brilliance is  an adaptation of a novel by Marcus Sakey, described as follows:
In Wyoming, a little girl reads people's darkest secrets by the way they fold their arms. In New York, a man sensing patterns in the stock market racks up $300 billion. In Chicago, a woman can go invisible by being where no one is looking. They're called "brilliants," and since 1980, one percent of people have been born this way. Nick Cooper is among them; a federal agent, Cooper has gifts rendering him exceptional at hunting terrorists. His latest target may be the most dangerous man alive, a brilliant drenched in blood and intent on provoking civil war. But to catch him, Cooper will have to violate everything he believes in—and betray his own kind.
Legendary is producing the film, and originally saw it as a big franchise film with Smith at the center. Leto is obviously a popular and talented actor, but I'm frankly surprised to see him take up such a mainstream genre film like this. After taking a break from acting to do the music thing, he came back primarily because his role in Dallas Buyers Club was so challenging. The gamble paid off, winning him an Oscar (along with many other awards) for Best Supporting Actor. Once an actor does that, they can often do anything they want. Starring in a potential sci-fi franchise would be a logical step for a lot of people. But it doesn't seem like the obvious choice for Leto.
On the other hand, if the actor's more interesting sensibilities fit in with the film Legendary is going to make, that's incredibly encouraging?
What do you think about Jared Leto Brilliance?