Star Wars Bits: Millennium Falcon Dice, Daisy Ridley And John Boyega, Plus Lightsabers And Comic-Con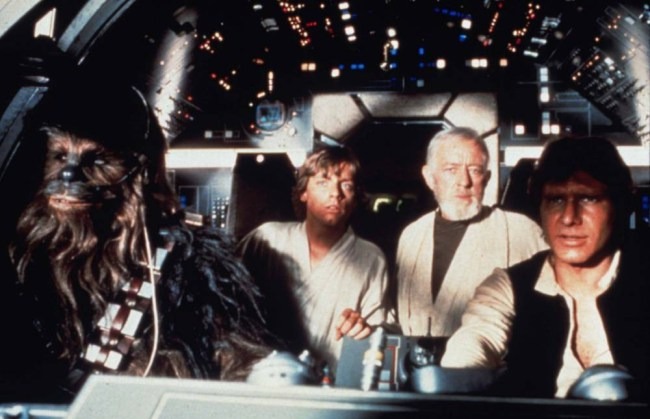 There's lots of Star Wars Episode VII rumor and speculation, along with merchandising and original trilogy memories, in this edition of Star Wars Bits. Below, read about the following:
The Episode VII Millennium Falcon dice were reportedly bought for $37 on eBay
Daisy Ridley comments on her role in Star Wars Episode VII.
John Boyega tweets about Star Wars character names.
More rumored details leak about sets being built at Pinewood for Episode VII.
Star Wars Rebels producer Dave Filoni seemingly confirms a Comic-Con appearance.
Watch John Ratzenberger talk about his role in The Empire Strikes Back.
Multiple new licensing partners will be making Star Wars merchandise.
How many Lightsabers are bought per year?
Like a lot of us, I'm a huge Millennium Falcon fan. But in the years of my fandom, I never realized there was a pair of gold dice hanging in the background. Apparently, J.J. Abrams missed them, too. According to Metro, an Episode VII crew member realized the Falcon didn't have the dice as seen in the photo at the top (hanging above the door) so they quickly went on the hunt. The art department found a pair on eBay for $37 and ordered them immediately. Read more at that link.
Here's a curious little story via Star Wars Underworld. The IMDB cast list for Star Wars Episode VII updated and added the name "Jaina Solo" next to Daisy Ridley. Star Wars fans became excited, but were then given a stern reminder that anyone can update the IMDB as it's a user-generated site. That reminder came from Ridley herself who tweeted: "guys the world and his wife can update IMDB. Just saying." Now, here's the curious part. It seems like an innocent tweet, but it has since been deleted. I guess you can't comment at all about anything in the movie. Or maybe she's Jaina Solo.
Speaking of Star Wars stars on Twitter, John Boyega dropped this one on fans earlier this week.
Oh crap, what does that mean? If Ridley can't comment, why can Boyega? Well, it's because it was just a set up to this comment:
Notice how he skillfully drops names of characters in this trilogy, and the prequels, to keep it very vague and general. Still, it's a nice little nugget of speculation.
Speaking of speculation, MakingStarWars has a new article about a few of the Episode VII sets and recognizable elements that are under construction at Pinewood Studios. Even though it's mostly hearsay, I won't reveal what specifically they think is being built as I guess it could be considered a minor spoiler. Head there to hear about some ships and planets that could be in the works.
Moving to something a bit more factual, Star Wars Rebels executive producer Dave Filoni had to cancel on a recent Star Wars Weekends appearance because work on the show was too pressing. In his apology, however, he made it sound like Star Wars Rebels would be at San Diego Comic-Con. He could mean just HE is going to Comic-Con but it isn't necessarily clear.
Everyone knows John Ratzenberger from Cheers and his Pixar films but he also has a small role in The Empire Strikes Back. He recently appeared at Star Wars Weekend and talked about the role in the video below. It's at 1:30.
At the 2014 Tokyo Toy Show, a bunch of new licensees were revealed to be working on Star Wars merchandise. They are TakaraTomy, Bandai, Square Enix, SEGA, Good Smile Company and Kaiyodo. Whether that's just in Japan or here in America too, is unclear. Read more at Action Figure Fury via Star Wars 7 News.
And finally, 10 million. That's how many lightsabers (in all the various forms) are sold EVERY YEAR for Lucasfilm and that number is expected to grow with Episode VII and Rebels coming out soon. Read more about Star Wars merch at Variety.