'The Expendables 3' Trailer: "Courageous, But Insane"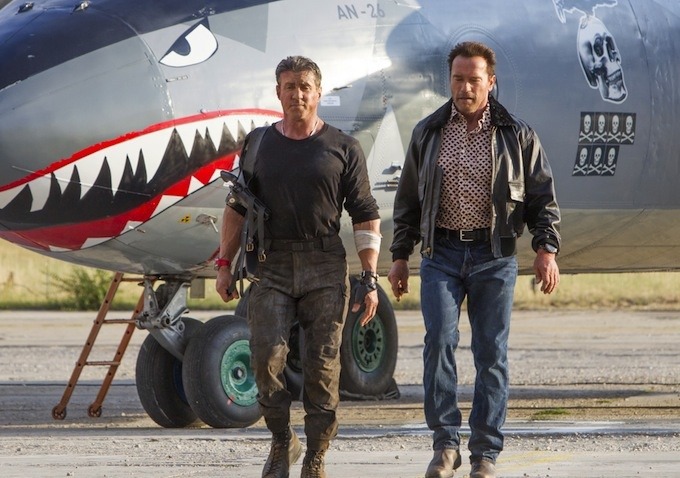 From James Gray's The Immigrant to Richard Linklater's Boyhood, there's no shortage of thoughtful, nuanced pictures out this summer. But sometimes, you don't want thoughtful and nuanced. Sometimes, you just want to turn your brain off for a couple hours and watch famous people blow stuff up real good.
That's where The Expendables 3 comes in. The latest entry in the summer blockbuster franchise brings together Sylvester Stallone, Arnold Schwarzenegger, Jason Statham, Jet Li, Harrison Ford, Mel Gibson, and so many more for a noisy adventure that involves big-ass guns, expensive explosions, gravity-defying motorcycle stunts, and, well, pretty much everything else we've come to expect from an Expendables movie. Watch the Expendables 3 trailer after the jump.
[via IMDb]
The plot of Expendables 3 involves some history between our heroes, led by Stallone's Barney, and the villain, played by Gibson. But mostly, it's an excuse to cram as many stars and as many explosions as possible into a feature-length film. We're not complaining.
Directed by Patrick Hughes, The Expendables 3 also stars Terry Crews, Dolph Lundgren, Randy Couture, Kellen Lutz, Ronda Rousey, Victor Ortiz, Glen Powell, Antonio Banderas, Kelsey Grammer, and Wesley Snipes. It's out August 15.
In THE EXPENDABLES 3, Barney (Stallone), Christmas (Statham) and the rest of the team comes face-to-face with Conrad Stonebanks (Gibson), who years ago co-founded The Expendables with Barney. Stonebanks subsequently became a ruthless arms trader and someone who Barney was forced to kill... or so he thought. Stonebanks, who eluded death once before, now is making it his mission to end The Expendables — but Barney has other plans. Barney decides that he has to fight old blood with new blood, and brings in a new era of Expendables team members, recruiting individuals who are younger, faster and more tech-savvy. The latest mission becomes a clash of classic old-school style versus high-tech expertise in the Expendables' most personal battle yet.