Early Buzz: Fox's Batman Prequel 'Gotham' Lives Up To The Hype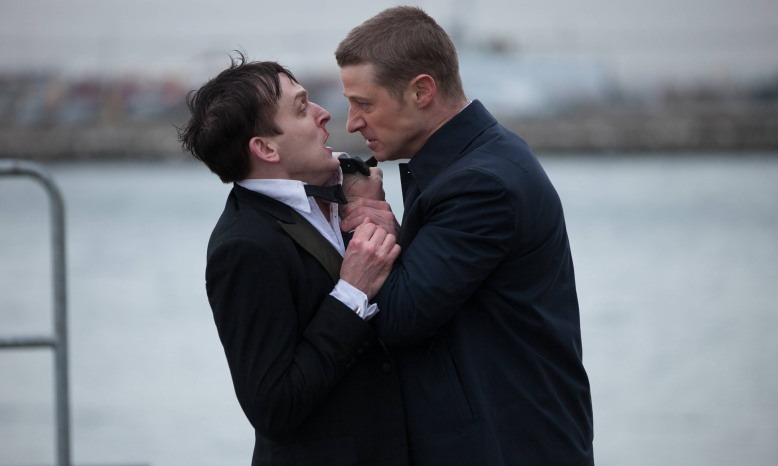 As a gritty prequel set in the Batman universe, Fox's Gotham was bound to get a lot of attention no matter what. The question was whether the freshman drama would actually live up to all that hype.
Happily, the word so far is that it does. The Gotham pilot was screened over the weekend for a handful of critics and journalists, and so far the reactions are quite positive. Hit the jump to get the early buzz on Gotham.
And now, on to the reactions:
Really dug the pilot of Fox's superhero origin story Gotham. Solid crime drama with many tantalizing hints of the mythology to come.

— Steven Zeitchik (@zeitchikWaPo) June 13, 2014
Just caught an advance screening of the #Gotham premiere. Loved it. So good. Excited for @ben_mckenzie and the rest of the cast.

— Alicia Rancilio (@aliciar) June 13, 2014
#Gotham is fantastic. The trailer doesn't do it justice. Definitely at the top of my list for this fall.

— Sandrine Sahakians (@sosandrine) June 13, 2014
Loved the screening of @Gotham @ben_mckenzie and @donallogue are the ultimate bad ass team. Can't forget @jadapsmith and Fish. This fall.

— Phyllis Thomas (@Phyllis_Thomas) June 13, 2014
Loved seeing #Gotham on the big-screen. Gorgeous show, and Ben McKenzie and Donal Logue make great on-screen partners. Excited for ep 2!

— Marisa Roffman (@marisaroffman) June 13, 2014
The proof will be in the Ep.7 or Ep.9 or E.11 of it, but FOX's #Gotham is a really solid, well-made pilot.

— Daniel Fienberg (@TheFienPrint) June 13, 2014
It's well-cast, top-to-bottom, and the production values play higher in context than they have in the trailers. #Gotham

— Daniel Fienberg (@TheFienPrint) June 13, 2014
I can't shake the feeling that there are a lot of unfulfillable promises in #Gotham. But... good pilot.

— Daniel Fienberg (@TheFienPrint) June 13, 2014
Fox's new TV series #Gotham topped expectations. Love it when new shows raise the bar. Fans will be very pleased.

— Tiffany Vogt (@TVWatchtower) June 13, 2014
Plus, #Gotham stars David Mazouz and Camren Bicondova are adorably fantastic as young Bruce Wayne and Selina Kyle aka Catwoman.

— Tiffany Vogt (@TVWatchtower) June 13, 2014
Also incredibly impressed with the mercurial performance of Robin Taylor as Oswald Cobblepot aka Penguin in #Gotham. He's another to watch.

— Tiffany Vogt (@TVWatchtower) June 13, 2014
Great to see both Donal Logue and Ben McKenzie bringing their A-game to #Gotham. Nice to see shades of #Southland/#Terriers in performances.

— Tiffany Vogt (@TVWatchtower) June 13, 2014
And dont even get me started about how much I loved Sean Pertwee as Alfred in #Gotham, who #Elementary fans know as Lestrade. Scene stealer!

— Tiffany Vogt (@TVWatchtower) June 13, 2014
So add #Gotham to your must-watch list for Fall. Airs Monday nights 8 pm, right before #SleepyHollow on Fox. Mondays are going to kick-ass!

— Tiffany Vogt (@TVWatchtower) June 13, 2014
There are a few longer-form reactions floating around as well, including this one from Collider.
Rest assured, #GOTHAM is everything that you want #GOTHAM to be. And .@robinlordtaylor is fantastic as Oswald Cobblepot (aka Penguin).

— Christina Radish (@ChristinaRadish) June 13, 2014
This Gotham is grimy and violent, and clearly on its way to being overrun by a criminal element that will quickly be sending it on a downward spiral. It feels much more like the real world heightened than it does a comic book world. [...]
Robin Lord Taylor is a true stand-out as Oswald Cobblepot, aka The Penguin. He is a low-level psychopath for Fish Mooney, but has a definite lust for power that will surely come into play as the character develops. His performance is just so good that people won't be able to not talk about it.
And this one from MTV.
Saw the #Gotham pilot tonight. Builds really well, and Robin Lord Taylor is a revelation as Penguin. Excited for what's next!

— Alex Zalben (@azalben) June 13, 2014
By far the best thing about the pilot is Robin Lord Taylor as Oswald Cobblepott, the man who will later become one of Batman's greatest enemies: the Penguin. Taylor is superb and transfixing in the role, down to his yellow teeth, creepy laugh and weird, freckled face.
And Crave Online.
The "Gotham" pilot seems like it's an hour or so away from being a pretty good Batman movie. [...] The biggest question for "Gotham" is whether the weekly TV series can maintain what it built up in the pilot episode. There's a strong foundation here and "Gotham" could be a very good show if subsequent episodes can match what the pilot achieved.
Gotham will air on Mondays this fall.