40 Things I Learned On The Set Of 'Transformers 4: Age Of Extinction'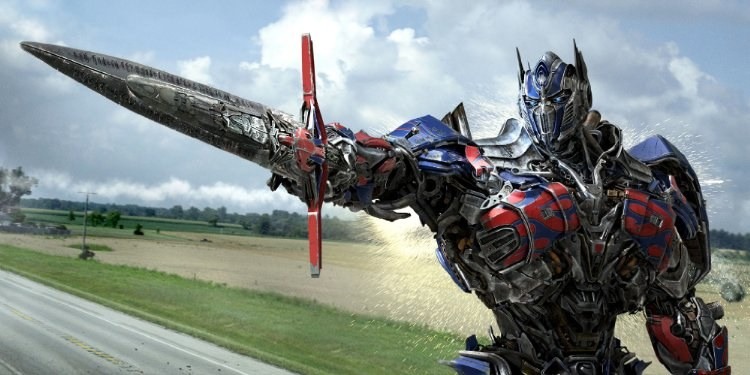 In August 2013, I flew to Detroit to visit the set of Michael Bay's Transformers: Age of Extinction. The production turned a few blocks of downtown Detroit into Hong Kong for an explosive climactic action sequence. After the jump, you can find out everything I learned while visiting the Transformers 4 set. We will be publishing our roundtable interviews with the cast and crew spread throughout the week. Read an account of over 40 things I learned on the Transformers 4 set visit after the jump.
We were on set on August 3rd 2013, a week after 20th Century Fox released The Wolverine in theaters. It was day 43 of principal photography. Production also shot 4 or 5 days in preproduction. The film shot in Washington state, Monument Valley, Hong Kong, Washington, and three weeks in Austin. 1,450 people were working on the movie at the time of our visit.
Transformers 4 planned to shoot for under 100 days. Michael Bay doesn't have a second unit, instead shooting everything himself on an insane schedule. Bay captures 50 to 60 shots every day, and filmed Transformers 4 in half the time of other big blockbusters.
The whole film will be completed in under 18 months. This film has more visual effects shots that than any of the other Transformers films, and they need to be completed in less time than the previous three movies.
The film was shot in a ton of different formats: on IMAX's new digital 3D cameras, with IMAX 70mm film cameras, and using anamorphic, spherical, and stereo 3D setups. They shot in native 3D whenever possible. A lot of the film is being shot with IMAX digital cameras. Michael Bay is still trying to shoot the film's action sequences in longer takes as it takes the human eye three or four seconds to see the depth in a 3D shot.
Transformers: Revenge of the Fallen was the first Transformers film to shoot some sequences using IMAX film cameras. That kind of resolution provides 8 times more information than normal film, so some of those frames took 36 hours to render a frame on the best equipment available. And now with IMAX Digital 3D, it will take double that time, perhaps with some time shaved off thanks to technology advances. They are rendering the visual effects in 2k for the most part, but some shots are being rendered in 4k.
The working title for the film was "E74", which was used on all the signage to try to keep the production secret. That said, everyone in the city knows what the production really was and tons of onlookers watched from nearby buildings and parking garages. After a huge explosive action take, Michael Bay used his megaphone to address people watching from on to of a building across the way: "You guys think you're going to wait up there and be in my movie? You're gonna get digitally erased!"
We were watching them film a scene from the third act of the film. One shot involved a ton a Chinese extras running out and through cars in the street followed by large spark-filled explosions all over the Hong Kong block as the cabled spydercam zipped by capturing invisible autobots or deceptions causing the destruction. Humans jumped out of the way/out of the balcony reacting to the triggered firework blasts. Here are some videos that were recorded from the day I was on set (not by me, but onlookers in Detroit):
The huge Hong Kong set was constructed in downtown Detroit, taking over a radius of a few blocks, centering around a dilapidated building. The set takes up a giant center square and continues on for 4 blocks on each side to give depth. The set is filled with destroyed cars, and an 18 wheeler turned over in the middle of the street. It took 16 weeks to build this set.
Detroit has a monorail system that runs once every seven minutes and goes through this Hong Kong set. So they have had to work around that scheduled train and make sure they don't get any dirt or rocks on the tracks.
Production is always shooting with at least four cameras at the same time. For bigger action moments there will be 9 or 10 cameras shooting simultaneously. Production was shooting from multiple cameras, some handheld, some steadicam rigs, one on a huge crane arm, and a Spydercam was rigged overhead. We saw Bay controlling the rig remotely by himself for some takes. Michael Bay operated a handheld camera during one take we saw, getting close to the action.
Bay is very focused on the red colors of China, and those have been utilized in the production design of the Hong Kong set. This "Hong Kong" features prop dressing that can only be described as a hilariously obnoxious recreation of Hong Kong, with almost too much Chinese script and red decoration. They wanted the set to be stylized, but it also needs to feel authentic because they're going to film some scenes in Hong Kong — it will need to cut together.
Producer Lorenzo di Bonaventura says that the story was developed to take place in Hong Kong and mainland China. Setting the film in China was was not an afterthought to take advantage of the Chinese co production deal, he claims.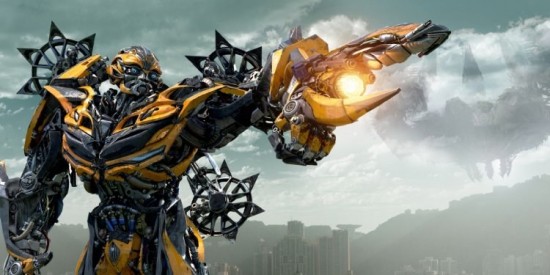 Bay wasn't originally going to direct a fourth movie but had an experience that changed his mind. After Transformers: Dark of the Moon, Bay finally got to visit the Transformers ride at Universal Studios. Upon seeing fans waiting three house for the attraction, he realized he wasn't ready to give up the franchise just yet.
The producers insist that Transformers 4 is a continuation of the Transformers film storyline, not a reboot as it was initially called in the press. That said, none of the human characters from the original trilogy return in this film.
When we were on set, the filmmakers were still debating if they would refer or mention the human characters from the first Transformers trilogy. I'm betting they will mention Shia LaBeouf's character Sam Witwicky in a news report or something.
This movie has more in common with the first Transformers film than the others in that it has a lot more connection to the human characters. Optimus Prime and Bumblebee don't appear in the movie until much later.
Mark Wahlberg's character Cade Yeager is a failed inventor from Texas, a dreamer who is financially unstable. His latest project is working on a big truck, nothing like he's ever seen before. There's a huge hole in the side of it. He hooks it to a working battery and it gives a weird reaction. He finds a robot in disguise which kick starts the adventure. Cade made his late wife a promise that his daughter wouldn't date before she graduated high school. Cade first meets his daughter's boyfriend when he saves them when their discovery is uncovered by authorities.
Nicola Peltz plays Tessa Yeager, the teenaged daughter of Mark Wallberg's character. She's described as a tomboy, although she looks like a teenage model. She is secretly dating a race car driver who gets mixed up in the madness. Having the father/daughter story at the center of this film allows then to ask questions and tackle different themes than the previous three films.
This film involves more human villains than the last movie — this is solidified early in the story. Kelsey Grammer's character is not as black and white as you think he might be. Stanley Tucci plays Joshua Joyce, the head of a corporation that manufactures transformers. We were told he plays an authority figure who is capable of both good and evil. Sophia Myles plays Darcy Tyrel, a tough/smart English geologist who works for the mining division of Joyce's company.
We will learn a lot more about the Transformers' homeworld in this film.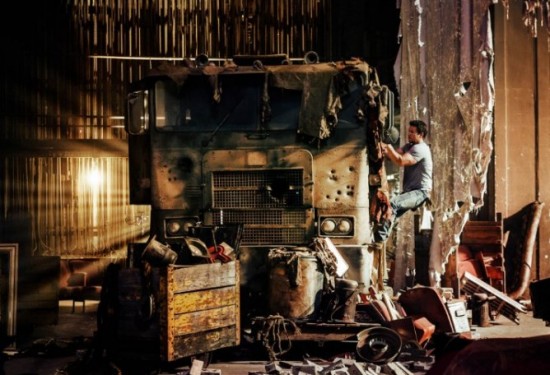 The Autobots are slightly more guarded than they were in the other films based on how Transformers: Dark of the Moon ended. The Chicago war was a big event that is still talked about in this world. It's a driving factor of some of the characters in this film. "Remember Chicago" billboards have been seen on previous sets. We will learn from the autobots what has happened in the last three or four years since Chicago. All of the transformers are in hiding, they have been hunted down after the events in Chicago.
For all of the films, the filmmakers and screenwriters have visited Hasbro during development of the script to help build the story from the extensive mythology of the Transformers line.
While the dinobots are now central to the film's marketing plan, while on set the producers and film makers refused to comment on the internet reports that Dinobots would be in the film.
The script was not created to be the last story in the series, nor did they intentionally set up sequels with the film's conclusion. That said, producers are hopeful this will be the first film in a new trilogy. They negotiated a deal with Mark Wahlberg for a potential series of Transformers films but that's all dependent on box office of the fourth film and if that's hugely successful, if they can come up with another good script.
The original idea for the film was that it would be "a chase from hell" but Bay wanted "a simple life that gets insane."
The US military has a much smaller presence in this film, especially since a lot of the film is set overseas. The military are still present in some way.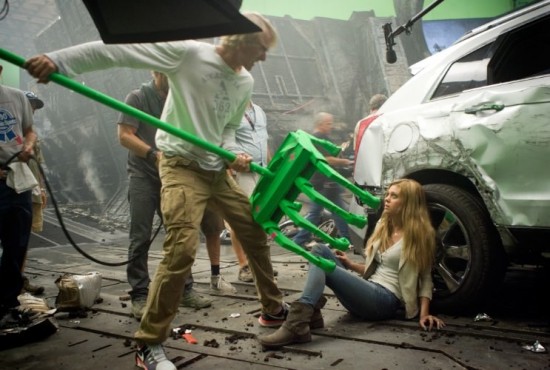 350 ILM visual effects people are working on this film. The Transformers are animated using keyframe animation. They will sometimes record a stuntman for reference for sequences that involve more elaborate movement, but most of it is done with key frame animation. They don't use motion/performance capture.
The film features 18 new robot characters. It takes 15 weeks of visual effects work per robot. Visual effects artists will spend an additional 15-20 weeks to do the rigging. Not only are there new characters, but all of the returning robot characters from the previous films have updated designs.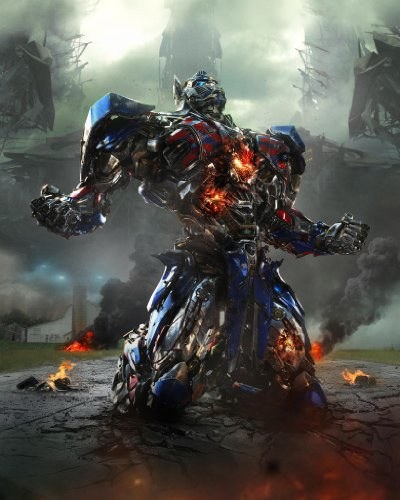 Bay says the robots in this movie have much more character than the previous films. One of the new robot characters is named Hound. He is described as a funny character, a fat guy that is like a ballerina with guns. In the movie he chomps on a bullet to kill someone.
The story begins in Austin, Texas, on a farm. Michael Bay chose a more rural setting because the other Transformers films were set in more urban environments and he wanted something different.
Producers Lorenzo di Bonaventura and Ian Bryce split responsibilities: Lorenzo works more in the development of the script and Ian deals more with the logistics of filming.
Set decorator Rosemary Brandenburg brought over three full containers from Hong Kong for this set's decorations. They also hired local Chinese traders in Detroit to make the dressings for this set. They traveled to Hong Kong to prep for the film with Michael Bay. They have huge books of photographs everyone took in Hong Kong for reference for these sequences. They will recycle a lot of the materials in different areas for different scenes.
The Transformers cars, just like the human movie stars, get their own trailers at base camp. Since the making of the first Transformers movie, car companies have been flying exotic concept cars to Michael Bay's office in hopes that he'll put them in the film.
The stunt team trained the young stars for four weeks back in Los Angeles before the shoot. The training involved boxing, sprints, cross training and was important because they built a relationship with the stunt guys.
The stunt team estimated that 90 percent of Mark Wahlberg's stunts are done by him and 10 percent is done by stunt doubles.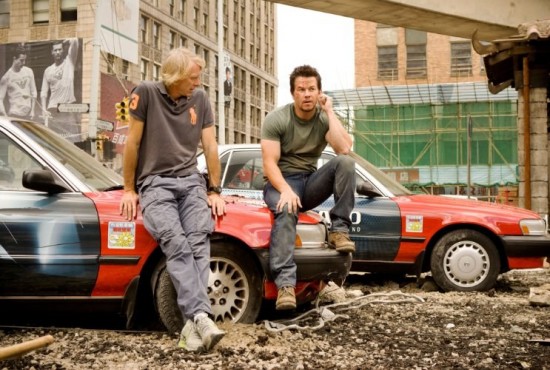 Bay screened a sizzle reel for us on set, and much of the footage we saw on set had the look of very beautiful and polished Americana, more like Armageddon or Pearl Harbor than the previous Transformers films. The trailers and TV spots make the film look huge, but the footage we saw on set looked like a much smaller film, much more human-centric. That might be because none of the computer-generated effects had been added. There was still a surprising amount of practical effects and of course, a heavy load of explosions.
Bay drives around set in a souped-up version of a golf cart, with huge monster truck wheels and army camouflage paint.
Wahlberg has a futuristic spaceship gun he lugs around for about an hour of the movie. He jokes that in the story they get to Hong Kong in just a few seconds, hinting that they use some kind of alien tech to get half way around the world.
Dwayne Johnson and Mark Wahlberg both asked Michael Bay to be in this film, but Bay joked that Wahlberg's availability was more open.
Wahlberg reads the entire script every single day he works on a film to get a sense of the whole story and the placement of the scenes he's shooting.
Bay admitted while working on Armageddon they had someone steal dailies from Deep Impact to see what it was.
For a big explosive pyro-heavy sequence, instead of yelling action they yelled "ready? and boom!" A series of huge explosions blew up the set and a few cars went flying, twisting in the air. After cut Michael Bay yells into the megaphone: "That was awesome!"