Watch Another 'Let's Be Cops' Red-Band Trailer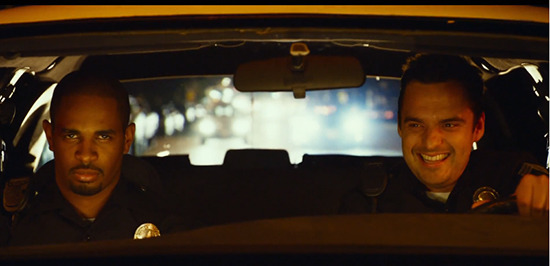 In Let's Be Cops, two friends discover a new (and highly illegal) way to get attention from the opposite sex. Two friends, one a douche and the other kind of a dork, dress up as cops for a costume party. They find, however, that people think they're actually cops. And the reaction is pretty positive — especially from women who like a guy in uniform. And then things get messy. This new Let's Be Cops red-band trailer shows how a couple real cops mistake the guys for officers, and the two dudes end up trying to solve an actual crime.
Luke Greenfield directed Damon Wayans Jr. and Jake Johnson in the lead roles, while Rob Riggle, Nina Dobrev, James D'Arcy and Andy Garcia round out the cast. Watch the new trailer below.Let's Be Cops opens, as the synopsis below, reinforces, on August 13. Trailer via Fox.
The August 13 release is the ultimate buddy cop movie except for one thing: they're not cops. When two struggling pals dress as police officers for a costume party, they become neighborhood sensations. But when these newly-minted "heroes" get tangled in a real life web of mobsters and dirty detectives, they must put their fake badges on the line.