Steve Martin Back For Gay Marriage-Themed 'Father Of The Bride 3' [UPDATED]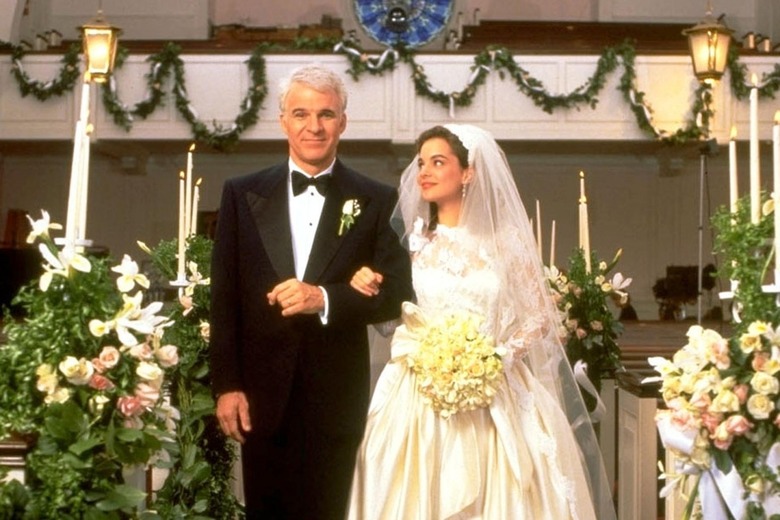 [UPDATE: Steve Martin has taken to Twitter to shoot down Father of the Bride 3 reports.
Original post follows.]
Father of the Bride began as a novel in 1949, and was turned into a movie in 1950. That film got a sequel in 1951, and was then remade (along with the sequel) in the '90s. Now the property is coming back yet again, this time with a very timely twist.Steve Martin is set to return for Father of the Bride 3, which sees George Banks once again doing what he does best — freaking out as his family hits a major milestone. This time, the relative getting him worked up is his son Matty, who's preparing to marry the son of a U.S. Navy SEAL. Yup, it's the gay marriage edition of Father of the Bride. Hit the jump for all the details.
In the new film, little Matty is now a 29-year-old who's preparing to wed the love of his life. Unfortunately, George is left "thunderstruck and speechless" by the fact that his son is marrying a man. He takes the news so badly, in fact, that his wife Nina kicks him out of the house until he can cool down.
It sounds like a sweet take on the Father of the Bride formula. The gay marriage angle might've felt more fresh five or ten years ago, but then nobody goes to these films looking for "edgy." Besides, it's still pretty rare to see a healthy gay relationship depicted in a mainstream family film.
As of now, Martin is the only actor confirmed to return. Kieran Culkin played Matty in the earlier films and is about the right age to play Matty now, but there's no word on whether the character will be recast. Nor do we know whether Diane Keaton, who portrayed Nina, will reprise her role.