'No Good Deed' Trailer: Idris Elba Takes A Dark Turn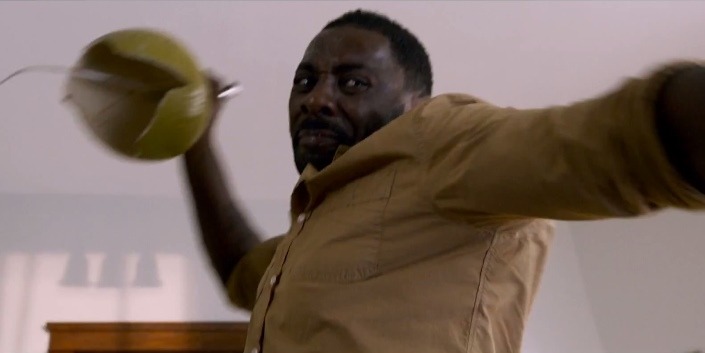 Idris Elba was quite the big screen hero last year. He battled kaiju in Pacific Rim, defended Asgard in Thor: The Dark World, and inspired a nation in Mandela: Long Walk to Freedom. But he's taking a villainous turn with his next film, No Good Deed.
Directed by Sam Miller (Elba's Luther), the thriller stars Elba as escaped convict Colin. He winds up at the home of a stranger named Terri (Taraji P. Henson), pleading for help, but then terrorizes her family once she lets him in. Sort of like Labor Day, only twisted and violent instead of sensual and romantic. Watch the No Good Deed trailer after the jump.
At first glance, No Good Deed looks like a pretty decent home invasion thriller. Elba's dangerous combination of charisma and menace keeps his villain compelling, and Oscar nominee Henson looks rock-solid as a victim who refuses to go down without a fight. Plus, Elba and Miller have done good work together on the TV drama Luther. The premise doesn't seem terribly original, but all in all No Good Deed has earned the benefit of the doubt.No Good Deed was originally scheduled to open last fall before being pushed to this January, and then again to this fall (September 12, to be precise). It's now going up against the T.J. Miller comedy Search Party and the family fable Dolphin Tale 2. Leslie Bibb, Kate del Castillo, and Henry Simmons also star.
Terri (Taraji P. Henson), a devoted wife and mother of two, lives an ideal life that takes a dramatic turn when her home and children are threatened by Colin (Idris Elba), a charming stranger who smooth-talks his way into her house, claiming car trouble. The unexpected invitation leaves her and her family terrorized and fighting for survival.