Jon M. Chu Could Replace Louis Leterrier On 'Now You See Me 2' [UPDATED]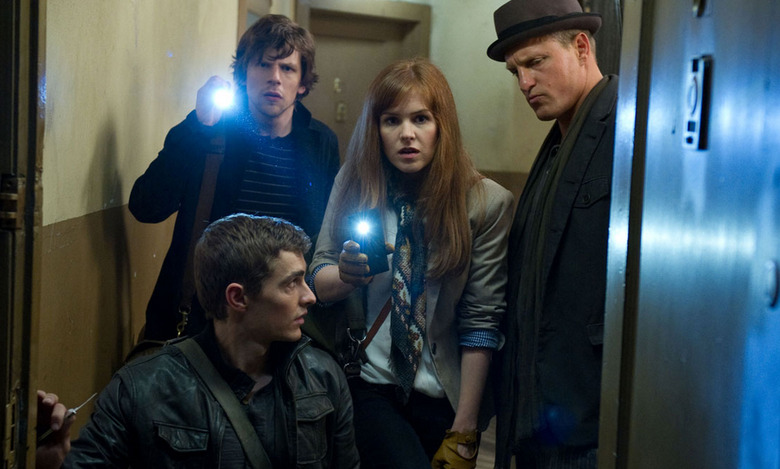 UPDATE: Variety now confirms that Jon M. Chu is in talks to direct Now You See Me 2.
Lionsgate didn't necessarily expect Now You See Me to hit as big as it did. Once it saw how much money the magician thriller was raking in, though, the studio knew just what to do: It got the wheels turning on a sequel.
Now, those wheels are moving toward a new director. According to a new report, G.I. Joe's Jon M. Chu is now the frontrunner to direct Now You See Me 2. Hit the jump for all the details on this latest development.
Leterrier's lack of involvement is somewhat surprising. He told press last summer that he was planning to helm the sequel, and in fact had already begun coming up with ideas for it. But he's got plenty of other work to keep him busy; he's currently prepping the Sacha Baron Cohen comedy Grimsby for summer 2015.
Chu just wrapped Jem and the Holograms, and is still attached to direct G.I. Joe 3. Previously, he directed G.I. Joe: Retaliation, Step Ups 2 and 3, and the Justin Bieber documentaries Believe and Never Say Never. A flashy actioner like Now You See Me sounds right up his alley.
The first Now You See Me was scripted by Edward Ricourt, Boaz Yakin, and Ed Solomon, and centered on four elite illusionists who use their skills to steal from the rich and give to the poor. Needless to say, the law isn't too happy with their activities.
The thriller proved to be one of last summer's biggest surprise hits. It got off to a stronger-than-expected start and then proved to have major staying power. By the end of its theatrical run, it had grossed $351 million worldwide — not bad at all for movie that cost just $75 million to make.