Dwayne Johnson's 'Hercules' Will Be Released In IMAX 3D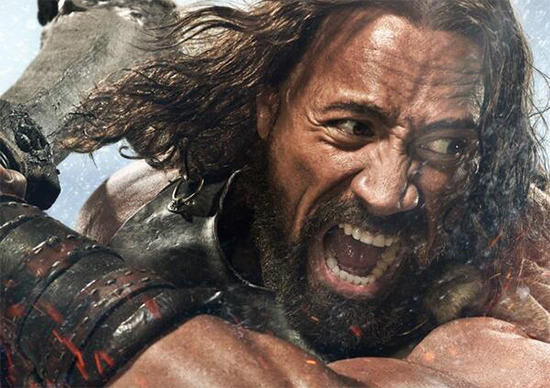 Hercules isn't just a mighty and powerful warrior, he's one of the mightiest, most powerful warriors of all time. His legend has endured for centuries. He's half god, for Pete's sake. Obviously, a regular old 2D screen was never going to be enough to contain him.
So naturally, he's getting the IMAX 3D treatment. Paramount and MGM have struck a deal with IMAX to release Brett Ratner's Hercules on its jumbo screens. Dwayne Johnson plays the iconic hero. Get additional details and read the full press release after the jump.
Ian McShane, Irina Shayk, and Joseph Fiennes star alongside Johnson in the movie. Ryan J. Condal and Evan Spiliotopoulos wrote the script based on the Radical Comics series by Steve Moore.
Here's the press release via MarketWatch.
LOS ANGELES, June 12, 2014 — IMAX Corporation, Paramount Pictures, a division of Viacom, Inc., and Metro-Goldwyn-Mayer Pictures today announced that Brett Ratner's action epic, Hercules, will be digitally re-mastered into the immersive IMAX® 3D format and released by Paramount Pictures and MGM in IMAX® theatres worldwide starting July 25.
"Hercules deserves a platform like the IMAX 3D format," said Greg Foster, Senior Executive Vice President, IMAX Corp. and CEO of IMAX Entertainment. "We are excited to team up with our partners Paramount and MGM to bring this epic tale to life as never before for IMAX fans around the world."
"There is no better format on earth than IMAX 3D to see an anamorphic widescreen epic such as 'Hercules,' said Ratner. "It is the first film I have directed being exhibited in IMAX 3D and definitely a dream come true for me. Now audiences around the world will have the viewing experience I have always dreamed of for one of my films."
Megan Colligan, President, Domestic Marketing and Distribution of Paramount Pictures commented, "We are pleased to once again partner with our friends at IMAX, and with MGM, we look forward to giving audiences around the globe the opportunity to experience the action and excitement of Brett Ratner's 'Hercules' in IMAX 3D."
From Paramount Pictures and Metro-Goldwyn-Mayer Pictures, "Hercules" stars Dwayne Johnson as both man and myth, leading a band of mercenaries to help end a bloody civil war in the land of Thrace and return the rightful king to his throne. A tormented soul from birth, Hercules has the strength of a God but feels the suffering of a human. Unimaginable villains will test the mythical power of Hercules in director Brett Ratner's gritty take on one of the most epic action heroes of the ages. The film also stars Ian McShane, Rufus Sewell, Joseph Fiennes, Peter Mullan, Aksel Hennie, Ingrid Berdal, Reece Ritchie, Tobias Santelmann, Rebecca Ferguson, Isaac Andrews and John Hurt.
"Hercules" is produced by Beau Flynn, Barry Levine and Brett Ratner. Based on Radical Comics' "Hercules" by Steve Moore, with a screenplay by Ryan J. Condal and Evan Spiliotopoulos. Directed by Brett Ratner.
The IMAX 3D release of Hercules will be digitally re-mastered into the image and sound quality of The IMAX Experience® with proprietary IMAX DMR® (Digital Re-mastering) technology. The crystal-clear images, coupled with IMAX's customized theatre geometry and powerful digital audio, create a unique environment that will make audiences feel as if they are in the movie.
For more information about Hercules, please visit the film's official website at http://www.mightyhercules.com .
About Paramount Pictures Corporation Paramount Pictures Corporation (PPC), a global producer and distributor of filmed entertainment, is a unit of Viacom VIAB -1.09% VIA -1.10% , a leading content company with prominent and respected film, television and digital entertainment brands. Paramount controls a collection of some of the most powerful brands in filmed entertainment, including Paramount Pictures, Paramount Animation, Paramount Vantage, Paramount Classics, Insurge Pictures, MTV Films, and Nickelodeon Movies. PPC operations also include Paramount Home Media Distribution, Paramount Pictures International, Paramount Licensing Inc., and Paramount Studio Group.
About Metro-Goldwyn-Mayer Metro-Goldwyn-Mayer is celebrating 90 years as a leader in the entertainment business and as an innovator in the industry. Today, MGM is an entertainment company focused on the production and distribution of film and television content globally. The company owns one of the world's deepest libraries of premium film and television content. In addition, MGM has investments in domestic and international television channels. For more information, visit www.mgm.com .
About IMAX Corporation IMAX, an innovator in entertainment technology, combines proprietary software, architecture and equipment to create experiences that take you beyond the edge of your seat to a world you've never imagined. Top filmmakers and studios are utilizing IMAX theatres to connect with audiences in extraordinary ways, and, as such, IMAX's network is among the most important and successful theatrical distribution platforms for major event films around the globe.
IMAX is headquartered in New York, Toronto and Los Angeles, with offices in London, Tokyo, Shanghai and Beijing. As of March 31, 2014, there were 840 IMAX theatres (707 commercial multiplexes, 18 commercial destinations and 115 institutions) in 57 countries.
IMAX®, IMAX® 3D, IMAX DMR®, Experience It In IMAX®, An IMAX 3D Experience®, The IMAX Experience®, IMAX Is Believing® and IMAX nXos® are trademarks of IMAX Corporation. More information about the Company can be found at www.imax.com . You may also connect with IMAX on Facebook ( www.facebook.com/imax ), Twitter ( www.twitter.com/imax ) and YouTube ( www.youtube.com/imaxmovies ).
This press release contains forward looking statements that are based on IMAX management's assumptions and existing information and involve certain risks and uncertainties which could cause actual results to differ materially from future results expressed or implied by such forward looking statements. These risks and uncertainties are discussed in IMAX's most recent Annual Report on Form 10-K and most recent Quarterly Reports on Form 10-Q.