Simon Pegg Addresses 'Star Wars Episode VII' Rumor, Talks J.J. Abrams [UPDATED]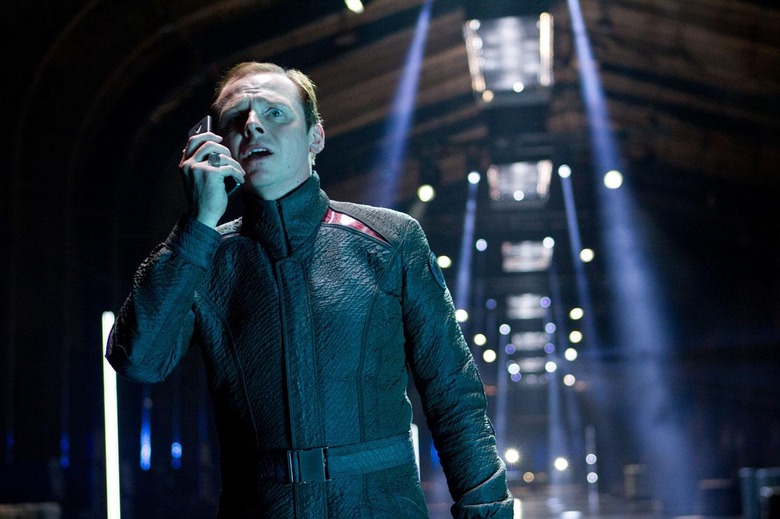 UPDATE from Germain: A few hours after this rumor about Simon Pegg appearing in Star Wars Episode VII broke, the actor took to Twitter to say "I think this might be why everyone got a little bit confused" with a link to the upcoming Phineas and Ferb: Star Wars special. He IS a part of that project so while that's not a denial, it's pretty close. Plus, we'd heard rumblings Pegg merely visited the set because he is both a huge Star Wars nerd and friends with writer/director J.J. Abrams. And so the rumor began.
Pegg also spoke to Sky Movies in the UK about Abrams and his approach to the film. In the clip, it sounds like he has an intimate knowledge of what the director is doing but it doesn't sound like he's in the movie. So, below, see that new video and read our original story.
Here's the new video of Pegg talking about J.J. Abrams and Star Wars via Sky Movies and StarWars7News.
And here's his tweet.
I think this might be why everyone got a little bit confused. #phineasandferb #starwars http://t.co/rvsGLm71Q4

— Pegg News (@simonpegg) June 13, 2014
And now, back to the original story.
At this point, J.J. Abrams has revealed most if not all of the core cast of Star Wars Episode VII. But the galaxy is a big place, with lots of people and creatures of every kind in it. There's plenty of room for more characters, and so the casting rumors will continue.
Today's (totally unconfirmed! take it with a huge grain of salt!) rumor is that Abrams' Star Trek star Simon Pegg has a "secret role" in the film, and in fact has already gone in front of the camera. Hit the jump for more on that story.
The source of this story is IGN Middle East. According to one of their sources, Pegg was recently on set in Abu Dhabi to shoot his scenes. No details were given about which character he was (allegedly) playing or which scenes were being shot.
If the rumor turns out to be true, it goes against Pegg's earlier comments about not wanting to be involved in the movie. "I don't think it would be appropriate for me to be in it, to be honest," he told the Independent last fall. "I think J.J. should cast new faces with no stunt casting."
Of course, he also told press in no uncertain terms that Benedict Cumberbatch wasn't playing Khan in Star Trek Into Darkness. And he got the Internet buzzing last year with a carefully posed photo from the Marvel offices. He's not beyond misleading the press, in other words.
Pegg and Abrams have a long history, having worked together on Mission: Impossible III and both Star Trek movies. Pegg is also a known fan of Star Wars — the original trilogy, anyway.
It's not out of the realm of possibility that Abrams would have cast Pegg in a small role. But it's also quite possible that Pegg was just on set for a visit or something. Either way, we'll find out when Star Wars Episode VII opens December 18, 2015.