New Mondo Robocop Posters By Tom Whalen And Kevin Tong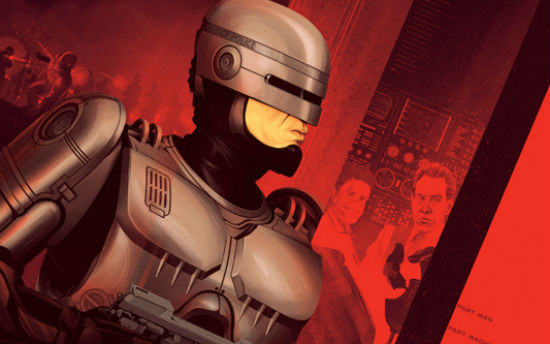 Mondo loves to do posters for niche, interesting movies as well as some of the biggest movies of all time. Thursday's releases fall in that second category. Popular and distinctive artists Tom Whalen and Kevin Tong now join the ranks of Tyler Stout, Martin Ansin, Olly Moss, Todd Slater, Tim Doyle and Jay Shaw with their own, unique representations of RoboCop for Mondo. Paul Verhoven's 1987 classic has seen all kinds of different posters but these latest two, on sale Thursday, are definitely two of the coolest. Below, check out all the information on them.
Here are the Tom Whalen and Kevin Tong RoboCops. Tong's has two variants, which I'll describe below.
Mondo RoboCop posters
The Whalen is a 12 x 36 screen print, edition of 300. It costs $45.
The Tong is a 24 x 36 in regular, variant and metal editions. The regular (red) version is an edition of 300 and costs $45. The variant (Gold) is an edition of 150 and costs $65. Then the metal is a tiny edition of 35 and costs $300.
All four posters, along with Nosferatu and Fight Club by Ken Taylor, go on sale at a random time Thursday June 12 by following @MondoNews.