Sacha Baron Cohen's 'Grimsby' Adds Ian McShane And More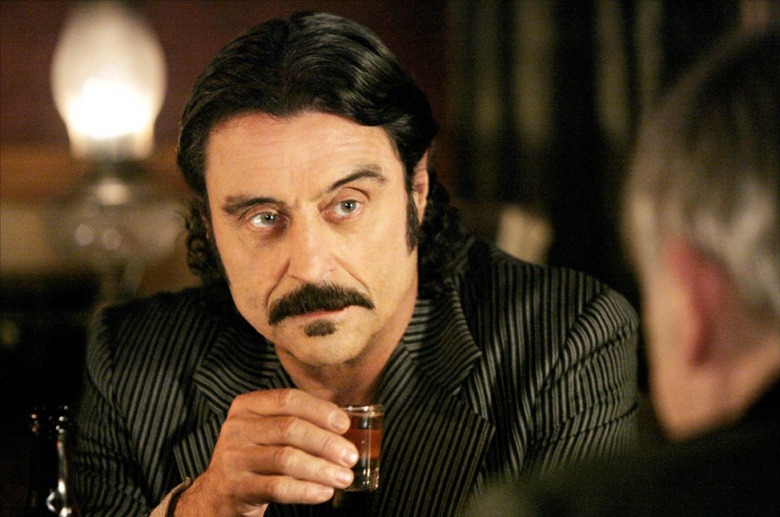 Sacha Baron Cohen's next comedy is casting up. Ian McShane, Gabourey Sidibe, David Harewood, and Johnny Vegas have just joined the cast of Grimsby, a spy spoof being directed by Louis Leterrier. Mark Strong was previously cast as one of the leads. Hit the jump for more details on the project.
Scripted by Baron Cohen, Phil Johnston (Wreck-It Ralph), and Peter Baynham (Borat), Grimsby follows two estranged, polar-opposite brothers forced to go on the run together. One is a British black ops agent played by Strong; the other is a moronic football hooligan played by Baron Cohen. Details on the other characters are currently being kept under wraps.
McShane is coming off of the big-budget fantasy epics Jack the Giant Slayer and Snow White and the Huntsman, and has another — Brett Ratner's Hercules — due out this summer. But he's also been able to indulge his funny side a bit, as in this spring's Cuban Fury. And his Deadwood character Al Swearengen was often hilarious — when he wasn't terrifying.
Sidibe, an Oscar nominee for her work in Precious, was last seen in the latest season of American Horror Story. She has several indies coming out in the near future, including White Bird in a Blizzard and Life Partners. So far, she is the only non-British member of the Grismby cast.
Harewood is best known for his TV work, including a two-season stint on Showtime's buzzy Homeland. He has a role in Paul Haggis' drama Third Person earlier this year. And Vegas is an English comedian whose recent credits include a recurring role on the Hulu sitcom Moone Boy.
Sony has Grimsby set for release on July 31, 2015, against Peregrine's Home for Peculiars.