Josh Brolin And George Clooney Will 'Hail Caesar!' For The Coen Brothers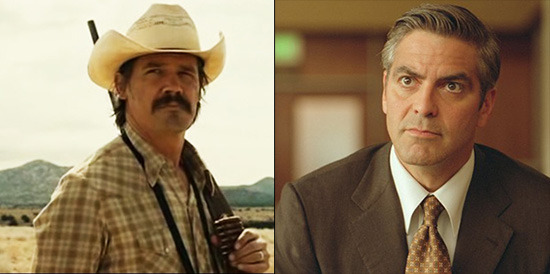 Joel and Ethan Coen have set the leading cast for their next film, Hail Caesar!, and the two leads will be familiar presences on the Coen set. George Clooney and Josh Brolin will star in the film. Each actor has done multiple films with the Coens before; Clooney in O Brother Where Art Thou?, Intolerable Cruelty, and Burn After Reading, and Brolin in No Country For Old Men and True Grit. Universal will distribute Hail Caesar!.
The news comes from Deadline. Clooney has more or less been a lock for the film since it was announced. The first rumblings about the sstory came back in 2005. Then, the brothers talked about the idea of completing their "idiot trilogy," begun in the first two films they made with Clooney. At that point, they said the film would "follow a troupe of theater actors in the 1920's putting on a play about ancient Rome."
Things changed over the years, and more recently they said it would be "about the movie business and life and religion and faith. Faith and the movie business."
The most recent info expands upon that statement, with the revelation that it will be about a character named Eddie Mannix, who works as a fixer for Hollywood studios during the 1950s.
In this case, a "fixer" is a guy who cleaned up problems and scandals created by movie stars under contract to studios. The idea was that the "fixers" would keep reputations clean, and keep the worst stories of bad behavior from hitting the gossip rags. Sometimes they did this with simple payoffs, other times with more threatening coersion and strong-arm tactics involving dirt implicating other actors and public figures. We don't know which actor will play Mannix, but it seems like Brolin might be the most obvious fit for the fixer, with Clooney playing an actor whose rep is at stake.