Phil Lord And Chris Miller Want A 'Clone High' Movie Sequel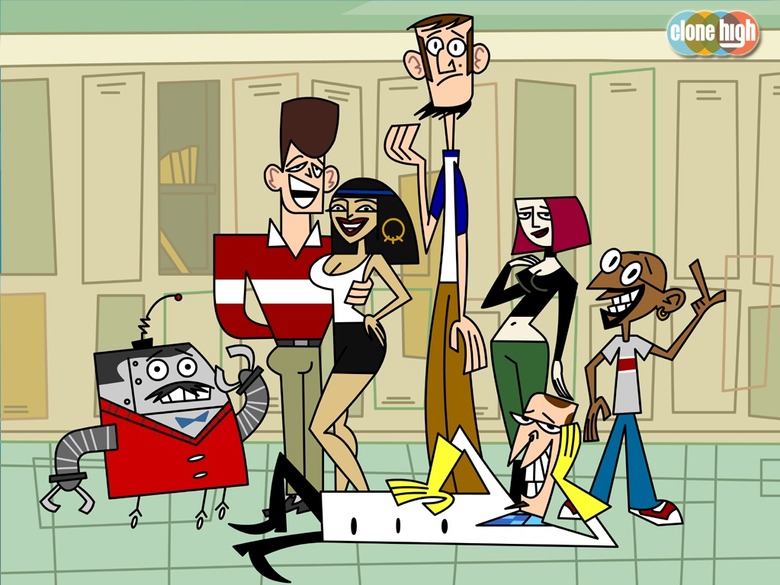 Before they were the acclaimed directors behind 21 Jump Street and The Lego Movie, Phil Lord and Chris Miller were the creators (with Bill Lawrence) of an offbeat animated series called Clone High. The show lasted just one season, but over the years it's amassed enough of a following that fans have started to speculate about the possibility of a revival. As it turns out, they aren't the only ones.
In a recent interview, Lord and Miller revealed that they have had actual conversations about bringing back the property, maybe for a Clone High movie. But there are a few things they'll have to sort out first, much of it involving lawyers and "business affairs people." Hit the jump to see what the pair had to say.
Lord and Miller offered the Clone High status update in a chat with Collider. "We talk very regularly now with Bill every few months or so, we talk about 'How are we going to get this back in whatever form we can?" We get our lawyers to talk to each other, and business affairs people to talk to each other," said Miller.
Some of the complications stem from the various studios involved. "Because it's at Viacom/MTV, we have a TV deal at Fox, he has a TV deal at Warner Bros," Miller explained. "It's all very complicated, and then it's 'should we do a movie, or a TV show, or whatever?'  But, we're working on it!  It's hard!"
For the time being, it sounds like a movie is the likelier outcome. However, that opens up a whole bunch of other questions, like what they should do about the rating.
Lord: It's also a tricky thing because we basically made a PG-13 TV series, and if you're gonna do a movie you wonder, 'Am I gonna have to justify the budget that it's gonna take by trying to broaden this to a family audience, and is that gonna kill what was fun about the original thing?'  Because there's so much blood in the original series (laughs).
Miller: And innuendo or whatever.
Lord: And JFK sex jokes.  Are you going to wind up defanging it?
Miller: Are you gonna make it R? PG-13?
Lord:  It's trying to cross-reference what it's gonna cost and what it's gonna make.
Overall, it's clear that Lord and Miller really want a Clone High revival, but it's equally clear that they've still got some work to do before they can start prepping the movie (or new season) for real. So we've probably got a while to wait before the Clone High movie becomes a reality.
In the meantime, there is a mini Clone High reunion of sorts brewing. Lord and Miller are teaming up with their Clone High star Will Forte for The Last Man on Earth, a new comedy coming to Fox this fall.