'Mighty Ducks 4' Might Happen Someday, Eventually, Maybe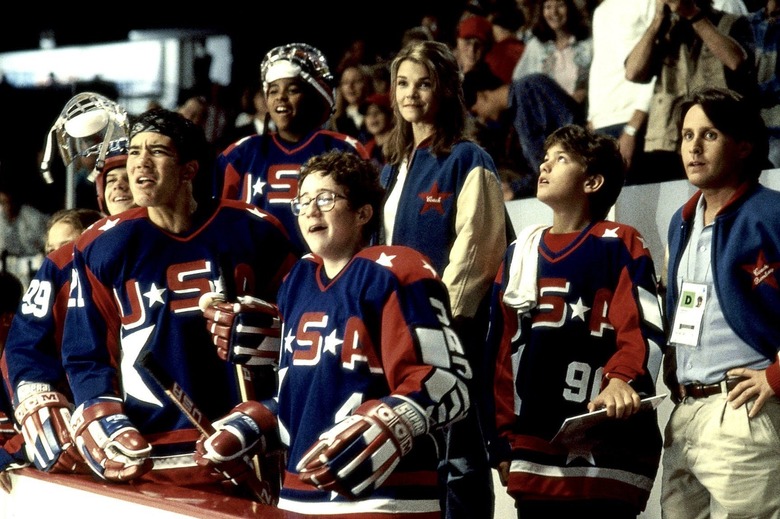 It's been 18 years since the release of D3: The Mighty Ducks, but in our sequel-happy age, it's never too late to consider a follow-up. While D4 isn't officially in development, producer Jordan Kerner has revealed that it's not not in development, either. He just needs the "right story."
Should he ever find it, he'll have at least one star on board. Star Joshua Jackson admitted in the same interview that "of course" he'd come back for a Mighty Ducks 4. Read Kerner and Jackson's comments after the jump, including Kerner's explanations of some of the ideas he's had.
I'm not going to fuel the rumor mill that it's going to happen, but I'm saying to you that the studio said to us, "We'd be interested if you come to us with the right story." And that's something that we've been all thinking about independently and I think that we may be coming closer to having the right idea for that.
One possible concept he's considered is turning a former Duck into a grown-up coach:
There have been a number of times that we have discussed with the studio the idea of either bringing it back and bringing it back possibly with one or two of the guys who are now in their thirties as the coaches, and having a few more of them be their friends in their lives and having the kids come back.
Another one would've taken the story in a bittersweet direction, with the death of Emilio Estevez's Gordon Bombay:
I wanted to license this dark adult play, That Championship Season. It was going to be the death of Gordon Bombay as an older man, and Marty was going to play him. And Goldberg would be played by like Jim Belushi. You know, we were literally going to pair up everybody with a present-day actor, but it was going to be not unlike Chariots of Fire, the sort of look back at a moment in time when their coach came back to them and did something that changed their lives forever. So you cut from the present of the kids and they would have been all of 18 or 19, so they would have become the high school seniors. And we probably would have played the third movie that I wanted to make, which would have been that return to the Goodwill Games and losing to Iceland. But it would be set against this thing going on in a bar or restaurant where all the present-day guys grown up talking about what this coach meant to them. And we'd see that played out against them as 18-year-olds on the ice and Emilio playing in that and his father playing in a series of scenes where he was dying and they had to say their goodbyes. So I was looking for a really literate and emotional way for all of them to come back together again as men and to say goodbye to the man who meant so much to them.
However, it "wasn't meant to be," and neither was the Broadway musical idea that Kerner and writer Steve Brill had at one point. Nevertheless, it sounds like Kerner will keep trying. And Jackson wouldn't mind bringing back the franchise,either.
I feel like a fourth film should happen, and if there was space for any of the original kids that come back and have a role, I would be surprised that anybody didn't want to do it, The next generation should have its own version. Not that we need to come back as adults, but I hope my kids grow up and play pickup hockey and I hope that they have their own movies like my generation had those movies. In that way, yeah, of course, I'd be a part of something like that.
None of which is to say that D4: The Mighty Ducks will be coming soon, or ever. But given that just about everything else from the '80s and '90s seems to be making a comeback... who knows? Would you want to see a Mighty Ducks 4?