Dave Franco Joins Brother In Film Based On Making Of 'The Room'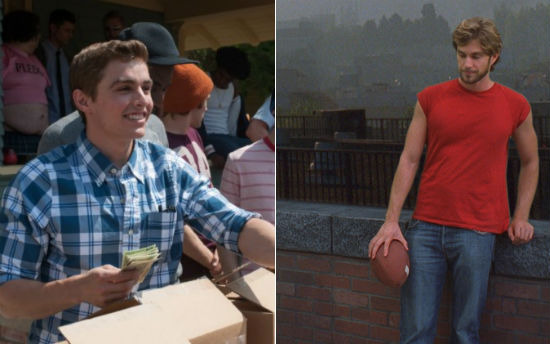 James Franco's upcoming film based on the book, The Disaster Artist, just got a little weirder. The book tells the behind the scenes story of the making of cult classic, The Room. One of the film's co-stars Greg Sestero ("Oh hi, Mark") co-wrote the book about the unfathomable production of the notoriously terrible film and Franco purchased the rights earlier this year. He'll direct and play one of the film's two leads, The Room director and star Tommy Wiseau. Seth Rogen and Evan Goldberg are producing.
One of the funniest threads in the book is the awkward bromance between Wiseau and Sestero and, in classic Franco fashion, he's upping the awkward. It seems his younger brother Dave Franco (Neighbors) has been tapped to play Sestero, the film's main character.
Like all things with The Disaster Artist, this news broke not from a major news site. Instead, Dave Franco made the announcement at a recent midnight screening of The Room in Los Angeles. Here's an excerpt from 3 News, who was in attendance.
The Room had one of its monthly screenings in Los Angeles last night, curated by the film's star, director, writer and producer Tommy Wiseau.To the crowd's delight, actor Dave Franco stood up during a Q&A session and asked: "Tommy, how do you feel about me playing Greg Sestero in the movie?"The crowd erupted into cheers."That's what I say: It's a good choice!" said Wiseau.
It actually is a good choice. In the book, Sestero is the focus. A kind, struggling actor who befriends the odd filmmaker/actor and eventually ends up starring opposite him in The Room. The whole story is told 100% in-on-the-joke of The Room, but has lots of heart and life lessons too. The Francos have great chemistry and if James is playing Tommy, Dave as a younger, more vibrant, kinder counterpart makes sense.
Besides this loose actor attachments, we don't know exactly what the latest on the movie is. The status of the script, if there's funding, etc. But it certainly won't be a big, Hollywood production. That said, with both Francos attached, it should come together pretty easily once all the pieces are set.
What do you think of Dave and James Franco playing the two stars of The Room?