'Mission: Impossible 5': Jeremy Renner Confirms Return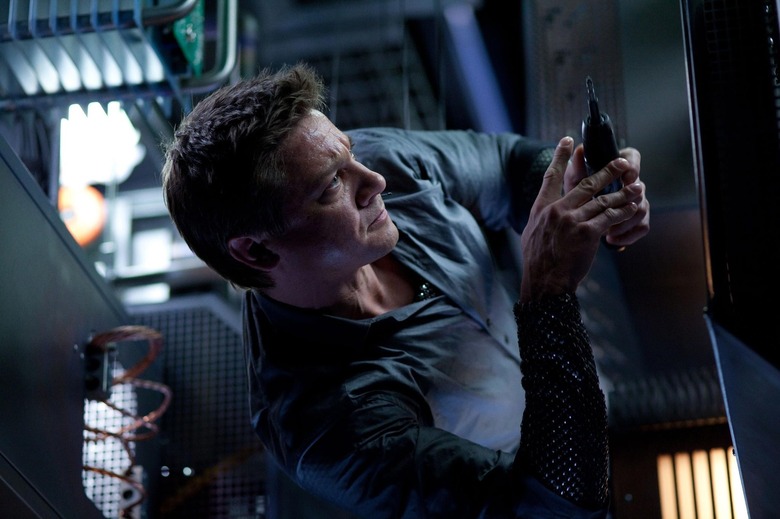 Tom Cruise has been expected to return for Mission: Impossible 5 pretty much since there have been plans for a Mission: Impossible 5. The status of his Ghost Protocol co-stars, on the other hand, has been a bit murkier. But as the release date approaches, the picture is looking much clearer.Jeremy Renner has confirmed that he will reprise his role as William Brandt for the upcoming sequel. Chris McQuarrie is directing from a script written by Drew Pearce and rewritten by Will Staples. Hit the jump to read Renner's comments.
It's kind of unlikely. In fact, I'm kind of strapped time-wise doing Avengers 2, and Mission: Impossible 5 is rearing its head, and then they want to do another Bourne movie. It's unlikely I can find the time right now. And that's all right. It's just really high-class problems — pretty awesome to have. Even if I really wanted to do it, which I don't, I couldn't.
It's not an official announcement from Paramount, but Renner sounds quite certain that he'll be back for Mission: Impossible 5. Pegg already confirmed his return back in November. We've yet to hear whether Paula Patton will join them as well.
Renner is not kidding about being strapped for time. He has three big franchise films due out next year. Avengers: Age of Ultron is filming right now, and Bourne 5 will have to begin shooting soon to hit its summer 2015 release date. Mission: Impossible 5 is scheduled to open Christmas Day.
But before any of those hit theaters, he'll be seen in Michael Cuesta's crime drama Kill the Messenger this fall. On top of all of that, he has a guest role coming up on FX's Louie, and he provided the narration for the History Channel miniseries The World Wars, which premiered last month.