'The November Man' Trailer: Pierce Brosnan Returns To Spying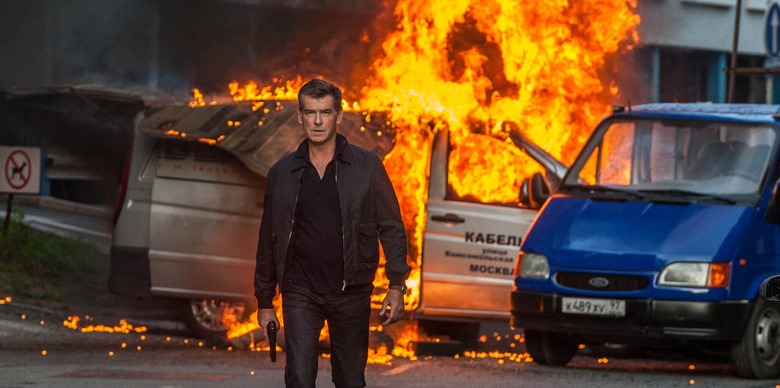 A dozen years after his last outing as Bond, Pierce Brosnan is getting back into the spy game in The November Man. He even has a former Bond Girl accompanying him, Quantum of Solace's Olga Kurylenko.
But the first trailer for the Roger Donaldson-directed thriller feels a bit more melancholy than your average 007 adventure. There are lots of shots of men coolly walking away from big explosions, sure, but there's also a sad little speech about how "love has no place in this life." Watch the November Man trailer and see some images after the jump.
The trailer actually doesn't reveal a whole lot about the plot, so here's a brief synopsis to help you out:
An ex-CIA operative is brought back in on a very personal mission and finds himself pitted against his former pupil in a deadly game involving high level CIA officials and the Russian president-elect.
If all goes well with The November Man, it has the potential to launch a whole new spy franchise for Brosnan. The film is based on Bill Granger's There Are No Spies, part of a whole series of novels centered around Brosnan's character Peter Devereaux.
In an interview with USA Today, Brosnan revealed why he thought now was the perfect time for him to return to (fictional) international espionage. "It just felt right, what can I say?" he said. "Enough time has passed from my days as Bond. I think the stage is big enough and wide enough for me to step back."
Despite the inevitable comparisons to 007, though, The November Man takes place in a far darker, less fantastical world. "All he has are hard knuckles, a hard head and a lot of heart," Brosnan explained. "He has a gun and a knife that he knows how to use effectively. That's it. It's kind of stripped down."
In fact, the title refers to Devereaux's tragic tendency to find himself surrounded by death: "Every time he goes to a city, everyone dies like it is winter. It's a line from the book that's a metaphor for his life." Yeesh. No wonder the guy is so skittish about love.
Despite its moniker, The November Man actually opens this summer — August 27, to be precise. Luke Bracey also stars.