'Game Of Thrones' Star Pedro Pascal Boards Netflix's 'Narcos'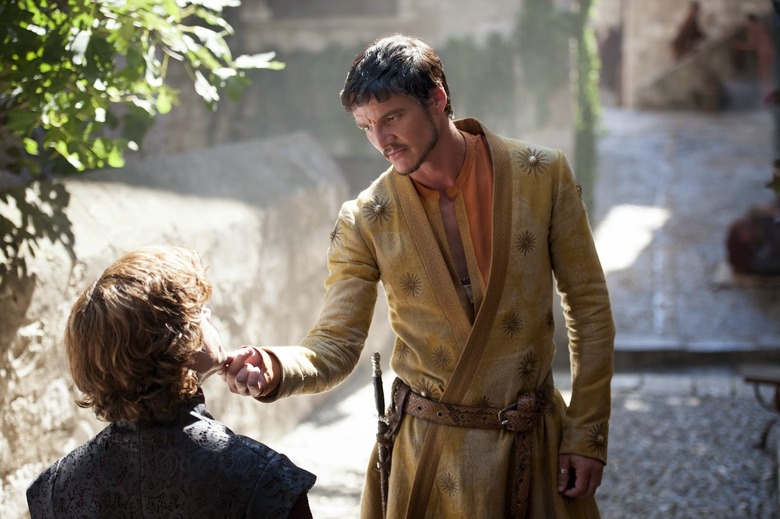 After spending the past season on Game of Thrones trying to exact revenge for the death of his sister, Pedro Pascal is skipping over to Netflix to try and bring a different bad guy to justice.
Pascal is set to star in Netflix's Pablo Escobar drama Narcos, opposite Wagner Moura (Elysium). Jose Padilha (Robocop) is directing. Get more details on the show after the jump.
The show will chronicle the real-life spread of drug cartels around the world, and the law's attempts to stop them. Moura is locked to portray Escobar, one of the most notorious cocaine kingpins of all time. Pascal will play Javier Pena, the Mexican DEA agent who's sent by the United States to Colombia in an attempt to capture and kill him.
This is obviously great news for Game of Thrones fans, many of whom (spoiler alert!) were horrified by the end of Oberyn's revenge quest in last Sunday's "The Mountain and the Viper." Let's just hope that Javier Pena has the good sense to end Pablo Escobar the moment he finds him, rather than rambling on long enough to give him the upper hand. (End spoiler alert.)
Shooting on Narcos is expected to begin in Colombia in the near future. The ten-episode first season will hit Netflix in early 2015. Chris Brancato (Hannibal) wrote the series, which is being executive produced by Padilha and Eric Newman (Children of Men).
Pascal has been working professionally for decades, with recent recurring roles in Graceland, The Mentalist, Lights Out, and The Good Wife. But it was his role as fan-favorite Oberyn on Game of Thrones that really helped him break through.
His upcoming roles include the ABC pilot Exposed, and the indies Bloodsucking Bastards and Sweets. He is currently starring in a New York production of Much Ado About Nothing, part of the Public Theater's annual Shakespeare in the Park program.