Lupita Nyong'o Will Produce And Star In 'Americanah'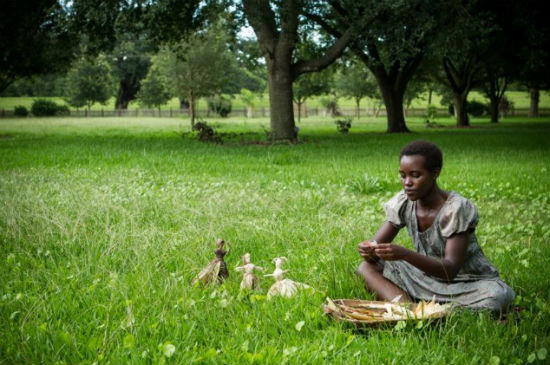 Lupita Nyong'o only just arrived as a feature actress, via her tremendous Oscar-winning performance in 12 Years a Slave. Now, after completing a role in Non-Stop and booking a gig in Star Wars Episode VII, she's making a step that takes some actors a very long time to achieve. Rather than waiting for her ideal role to come around, she is producing an adaptation of the novel Americanah, by Chimamanda Ngozi Adichie. The novel is an epic love story that crosses continents and explores modern immigration, race, and the search for a homeland.THR reports that Brad Pitt's Plan B, which also produced 12 Years a Slave, picked up the rights to the -penned novel and will produce alongside D2 Prods. and Potboiler Prods. (The Last King of Scotland, Generation Kill). Nyong'o will produce and star. Granted, Nyong'o has already written, edited, and directed the documentary In My Genes, about the lives of albinos in Kenya.
The novel won the 2013 National Book Critics Circle Award for fiction, and has been cited as one of the best books of 2013 by The New York Times Book Review and the BBC. Here's the book jacket copy:
Ifemelu and Obinze are young and in love when they depart military-ruled Nigeria for the West. Beautiful, self-assured Ifemelu heads for America, where despite her academic success, she is forced to grapple with what it means to be black for the first time. Quiet, thoughtful Obinze had hoped to join her, but with post-9/11 America closed to him, he instead plunges into a dangerous, undocumented life in London. Fifteen years later, they reunite in a newly democratic Nigeria, and reignite their passion—for each other and for their homeland.
Nyong'o said,
It is such an honor to have the opportunity to bring Ms. Adichie's brilliant book to the screen. Page after page, I was struck by Ifemelu and Obinze's stories, whose experiences as African immigrants are so specific and also so imminently relatable. It is a thrilling challenge to tell a truly international story so full of love, humor and heart.