'Game Of Thrones' Officially Becomes HBO's Most Popular Show Ever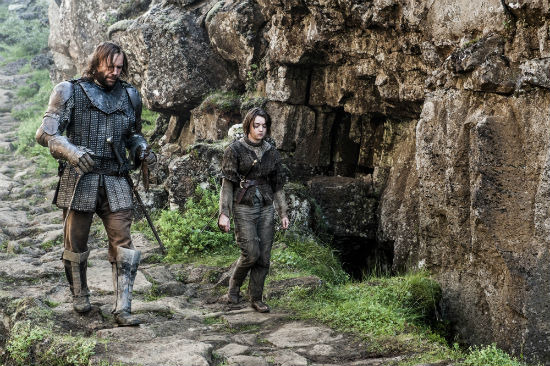 Even as the battle for the Iron Throne wages on in Westeros, another battle has been won on HBO. Game of Thrones has officially become the most popular show in the history of HBO, beating The Sopranos, Sex and the City and so many others. Read the particulars below.
The Wrap reported the Game of Thrones ratings. The current season of Game of Thrones is setting personal rating records each week and so far, with the final two episodes still to air, it's averaging a "gross audience" of 18.4 million viewers. Before that, the 2002 season of The Sopranos had a gross average of 18.2 million. That makes Game of Thrones the new champion.
Now, to be fair, 18.4 million people don't watch the show when it first airs. The May 18 episode reportedly had 7.2 million people watch the initial airing. The math isn't that difficult to realize A LOT of people then watch the episode on their DVRs after the initial broadcast. Usually, the gross takes into consideration people who watch up to about 3 days after airing. If you watch a week later, that data isn't going to count.
Odds are too, that number will go up when the final two episodes are factored in and averaged across the entire season. Over the past few seasons of Game of Thrones, the penultimate episodes (such as this week's episode) are generality the most surprising and exciting of the season. Then finales are usually one of the two or three highest rated episode of any season. So these next two weeks should bring in huge numbers, making the most popular show in the history of HBO even more popular.
Then, with at least two more seasons to go, it seems likely Game of Thrones will sit atop the Iron Throne of HBO for a good, long while.
Are you surprised Game of Thrones is so popular? Do you trust these numbers? Is there a show coming up that could potentially beat this viewership?