Guillermo Del Toro's The Strain Extended Trailer: "He's Here..."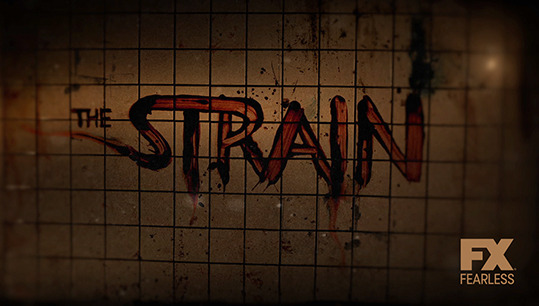 FX has released an extended trailer for The Strain, the television show adaptation of Guillermo del Toro and Chuck Hogan's novel series of the same name. The television pilot was directed by del Toro, and is set to air in July. House of Cards actor Corey Stoll stars as a doctor who is investigating a virus which effectively creates vampires. The new trailer focuses on an airline flight that results in the apparent mysterious death of the entire plane, crew and passengers. But of course, things aren't completely as they seem. Watch The Strain Extended Trailer embedded after the jump.
The 13-episode first season of The Strain will begin airing on Sunday, July 13 on FX. Here is the official synopsis:
A plane lands at John F. Kennedy International Airport with lights off and doors sealed. Epidemiologist Dr. Ephraim Goodweather (Stoll) and his team are sent to investigate. On board they find two hundred corpses and four survivors. The situation deteriorates when the bodies begin disappearing from morgues. Goodweather and a small group of helpers find themselves battling to protect not only their own loved ones, but the entire city, from an ancient threat to humanity.
Emmy Award winning Writer and Producer Carlton Cuse (Lost, Bates Motel)  is Executive Producer/Showrunner and Writer. The ensemble cast stars Corey Stoll, Mia Maestro, Sean Astin, Kevin Durand, Natalie Brown, Jonathan Hyde, Richard Sammel, Robert Maillet, Jack Kesy, Ben Hyland, and Miguel Gomez.