Watch The First Five Minutes Of The Provocative 'Borgman'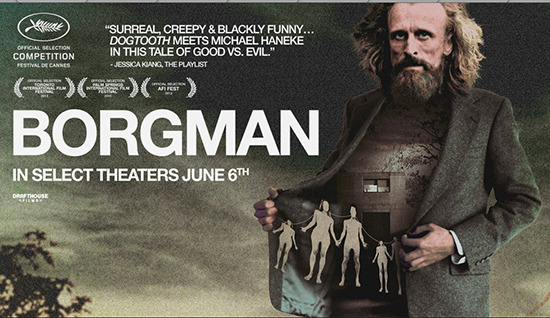 Borgman is a strange and unsettling film that is absolutely worth watching, and now you can see the opening sequence for free. Drafthouse Films has dropped the first five minutes of the movie online in advance of the film's NYC opening tomorrow. If you're the sort that will be drawn in by situations that are odd, and tantalizingly unexplained, then what follows after the jump is five of the best minutes you'll have today.Also worth a look is the recent US trailer for the film. That offers a broader sampling of the story without giving away much at all. And while Borgman is a film I didn't truly love when I caught it last year for Fantastic Fest, it is one that has stuck firmly in my mind over the past months. Personally, that can be a greater mark of effectiveness than the basic flush of enjoyment that comes from some films. This is one I'm going to revisit, likely more than once. 
Want to see  more? Following is a clip, showing one of the more messed-up scenes in the film. This bit involves a creative method of disposing of bodies.
Borgman opens in NYC this Friday, and expands June 13th and June 20th. You can get more info here.
A dark suburban fable exploring the nature of evil in unexpected places, BORGMAN follows an enigmatic vagrant who enters the lives of an upper-class family and quickly unravels their carefully curated lifestyle. Charming and mysterious, Camiel Borgman seems almost otherworldly, and it isn't long before he has the wife, children and nanny under his spell in a calculated bid to take over their home life. However, his domestic assimilation takes a malevolent turn as his ultimate plan comes to bear, igniting a series of increasingly maddening and menacing events.