J.J. Abrams Addresses Leaked 'Star Wars Episode VII' Photos With Clever Image And Confirmation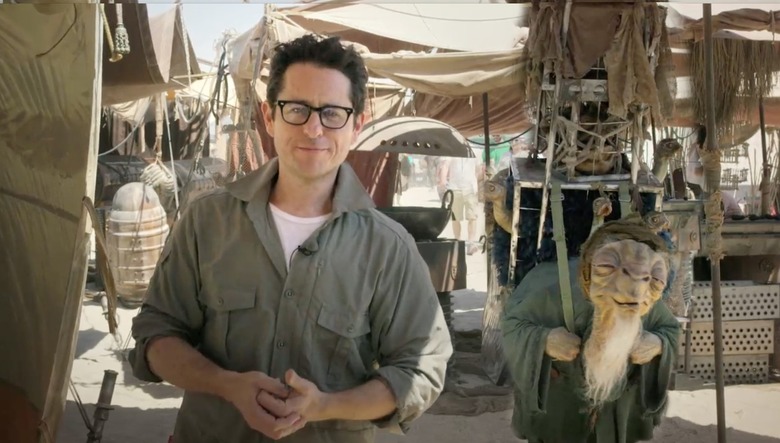 In response to all the leaked photos from the set of Star Wars Episode VII, writer and director J.J. Abrams used the Bad Robot Twitter account to send a note to fans. It says "I wish people would stop leaking photos from Episode VII and making ridiculous claims that the Millennium Falcon is in the movie." But the background behind the note makes the text very funny. Check it out below.
Here's the tweet.
— Bad Robot (@bad_robot) June 4, 2014
And a bigger version of the photo.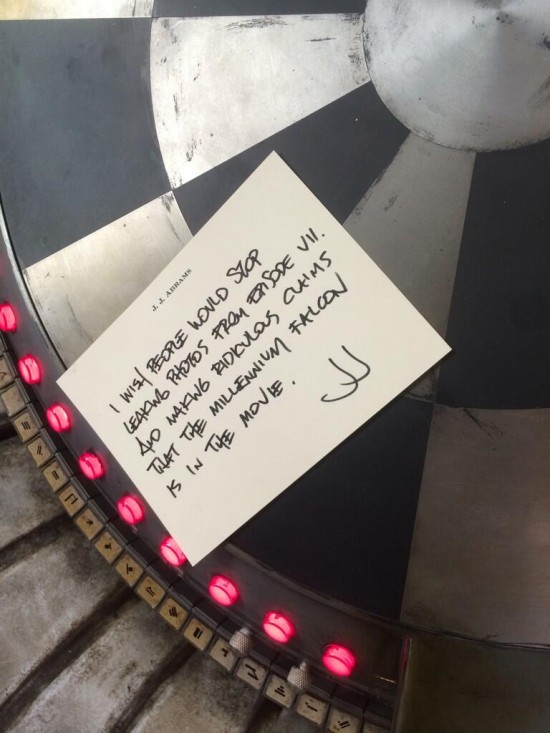 Obviously, that's the holo-chess board from inside the Falcon, as made famous by the "Let the Wookie Win" scene in A New Hope. Oh J.J., you so clever. We get it.
Besides the obvious nature of this photo, there are some additional subtexts. First, it confirms what Peter had been saying on Twitter, that the TMZ photos were indeed leaked and Abrams and company are indeed pissed about it. But, at the same time, Abrams is offering up something in return. An image from inside the Falcon, confirming it's in the movie. (As if we didn't know that 15 times over.) That's more than Abrams usually shows fans.
Plus, between this and the UNICEF video you have to think Kathleen Kennedy's claim from months ago, that production would be more transparent than the usual Abrams mystery box stuff, is true. Very slowly, but surely, Abrams is showing stuff to fans. He just feels the TMZ stuff is too early, and you can't really blame him.
Star Wars Episode VII is now filming in London, aboard the Millennium Falcon apparently, and it hits theaters December 18, 2015. It stars ohn Boyega, Daisy Ridley, Adam Driver, Oscar Isaac, Andy Serkis, Domhnall Gleeson, and Max von Sydow will join the original stars of the saga, Harrison Ford, Carrie Fisher, Mark Hamill, Anthony Daniels, Peter Mayhew, Kenny Baker, Lupita Nyong'o and Gwendoline Christie.