Director Dean DeBlois Talks 'How To Train Your Dragon 3' Ending; Fourth Film Now Rumored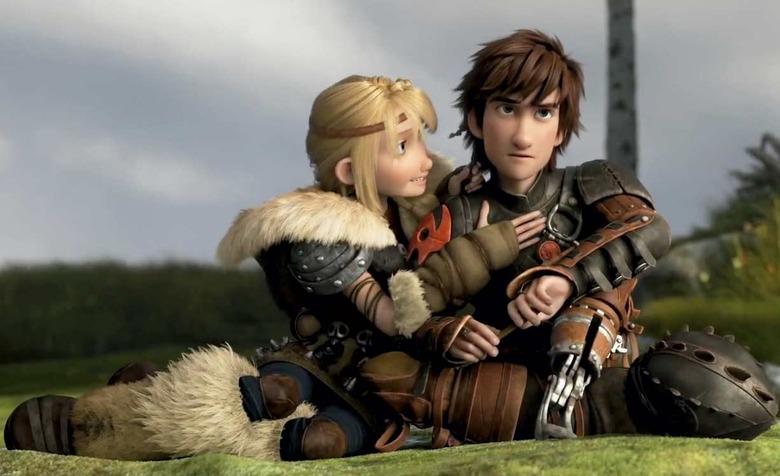 As film fanatics, it's in our nature to want more. It's not enough to be satisfied How To Train Your Dragon 2 is opening next week. A movie that's just as wonderful, if not more so, than the original. No, we have to look ahead. We have to look forward to June 17, 2016's How To Train Your Dragon 3, and maybe beyond.
Since development on the sequel began, writer/director Dean DeBlois has been very upfront in saying How To Train Your Dragon 2 is the middle chapter in a larger saga. A trilogy that will end in 2016's How To Train Your Dragon 3, announced in 2012. Now with Part 2 almost in theaters, he's begun to divulge a bit about the third film, specifically how the ending of the series will tie back into Cressida Cowell's original books.
Also, one of the trilogy's key components, composer John Powell, suggested that third film might actually be split into two, making the trilogy a quadrilogy. Read DeBlois' quotes about How To Train Your Dragon 3 and Powell's quotes about a possible How To Train Your Dragon 4 below.
DeBlois was on-hand (along with stars Jay Baruchel, and America Ferrara) at last weekend's Los Angeles Times Hero Complex Film Festival and got asked about the third film. Beware though, if you haven't read the books there are HUGE SPOILERS in the second paragraph, I'll white them out. Here's DeBlois:
When I was approached about a sequel, I said will you consider it to be the middle act of a three act trilogy? Therefore we're not just inventing a random other adventure that you cast the same 5 or 6 characters into and graft on a problem that feels artificial. So by meeting Hiccup at this later stage of his life he's now dealing with an organic and universal problem that many of us go through at that stage. But it is the middle chapter heading toward the culmination of Hiccup's final coming of age.And the intention is to be very conscious of where we came from in the first movie and where we're heading in the third. So I've been working on a running outline for sometime and I know we're going to get to the point where Cressida Cowell books start which is Hiccup, as an adult, looking back on his life and saying "There were dragons when I was a boy." There's something really powerful and emotional about that that hits you in the gut. And I think it could be bittersweet and beautiful. But how they disappear? What happened and what leads them to that point? That's the stuff of the third movie. We're always very conscious to make sure the threads we're pulling forward are from the first film and paying off in the second are also embedding storylines for the third.
Very interesting stuff, especially the spoilers. That would be an incredibly powerful way to end the series, just as the books start.
But – if How To Train Your Dragon 2 is as big a hit as most people expect, could we get an additional installment? Speaking to Collider, the composer of the trilogy John Powell said the following:
I saw Dean in Cannes, we had a premiere of the film there, and he was very merry and a bit drunk and he sort of knew about [How to Train Your Dragon] 3 and I think it was mentioned to him by Jeffrey [Katzenberg] that maybe they would do 4. And that was definitely, I think, a real kind of eye-opener for Dean and for me because it's like, 'Hey I thought this was a trilogy?' (laughs). So I don't know, and it might be good because he's got a lot of story left to tell, so maybe splitting it into two will work, but I just don't know about that yet. I'm supposing that at the moment, Dean has an idea for the third one and he isn't telling any of us yet.
That makes it sound like the idea of a fourth film was news to DeBlois, who has been working on How To Train Your Dragon as a trilogy. But Katezenberg, the head of DreamWorks Animation knows it's one of their biggest hits so trying to extend it beyond the third film makes sense from a financial point of view. And, actually, it's a sentiment DeBlois should be aware of. Back in 2010, Katzenberg said the following:
Kung Fu Panda actually has 6 chapters to it, and we've mapped that out over the years. How To Train Your Dragon is at least three: maybe more, but we know there are a least three chapters to that story. There are actually 8 books... right now, today, we know that there are three for sure that we want to tell and there may be more. We haven't thought, you know, how do we continue beyond that.
So maybe, in the four years since that quote and with the further development of the second and third film, they've now come up with a fourth idea.
Truly though, I hope DeBlois makes his third movie, ends it how he wants to – as described above – and then walks away. Anything that happens after, that's on DreamWorks, but fans will always have the first three films. And the second one is fantastic.
Do you think that's a good way to end How To Train Your Dragon 3? Do you think splitting it into to ala Harry Potter/Hunger Games/Twilight - is a good idea?