'Jupiter Ascending' Delayed Until February 2015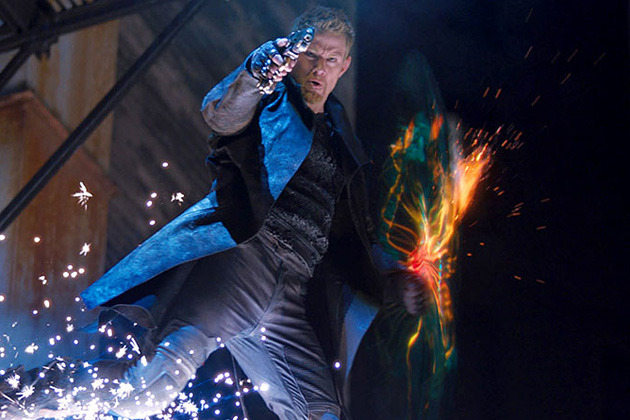 Bad news, Wachowski fans. Their upcoming summer blockbuster, Jupiter Ascending, is no longer that. The film has been moved from its initial July 18 release to February 6, 2015. No specific reason has yet been given for the Jupiter Ascending delay but we have some guesses below.
Variety and others quickly reported the disappointing news.
It's a strong, but odd move, a mere six weeks before release and – though we aren't sure why yet – it means one of two things. The most obvious and optimistic is reason is the Wachowskis simply won't be able to finish the elaborate special effects in time for release. That seems reasonable. There's also the chance Warner Bros. has very little confidence in the film, hence the wasteland of February release. It's actually now scheduled to open on the same day as Universal's Seventh Son, the long delayed Jeff Bridges fantasy movie. That's not a good thing. (UPDATE: Deadline reports it was the VFX delays)
Then again, it was the Wachowski's hit, The Matrix, which Warner Bros. also wasn't quite sure about that helped make the first quarter a viable release window for others films. Released on March 31, 1999, the film surprised everyone with a $27 million plus opening going onto gross $463 million worldwide. In the years since, films like 300 and others have rode the first quarter to big numbers.
So maybe this isn't all bad news. Maybe it's just the studio looking at sure film "hits" like The Amazing Spider-Man 2 and A Million Ways to Die in the West and feeling less confident about their weird movie. It certainly seems like that's a possibility when you read the official synopsis:
Jupiter Jones (Mila Kunis) was born under a night sky, with signs predicting that she was destined for great things. Now grown, Jupiter dreams of the stars but wakes up to the cold reality of a job cleaning other people's houses and an endless run of bad breaks. Only when Caine (Channing Tatum), a genetically engineered ex-military hunter, arrives on Earth to track her down does Jupiter begin to glimpse the fate that has been waiting for her all along—her genetic signature marks her as next in line for an extraordinary inheritance that could alter the balance of the cosmos.
Jupiter Ascending stars Channing Tatum, Mila Kunis, Sean Bean, Eddie Redmayne and Doona Bae.