'Jurassic World' To Begin Filming In Abandoned Theme Park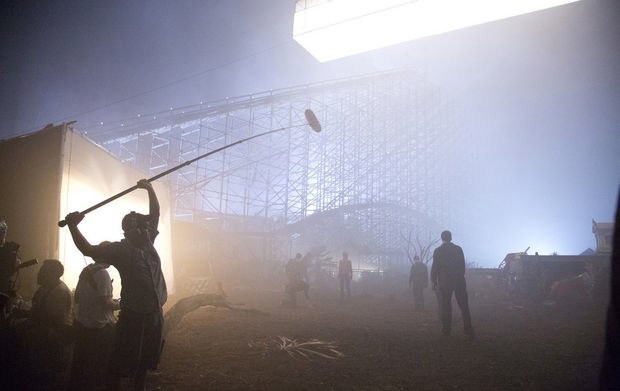 As you probably have heard by now, the story of Jurassic World is set in a new fully functional theme park on Isla Nublar. The Jurassic Park series sequel has been shooting for almost two months now and the production has already filmed in The Honolulu Zoo. The movie, which is filming under the working title Ebb Tide, is moving to New Orleans Louisiana for eleven weeks of filming and next week they are scheduled to begin shooting at the old abandoned Six Flags New Orleans theme park. How cool is that? A movie about a Jurassic theme park filming at an abandoned theme park! Learn more about the Jurassic World abandoned theme park film shoot after the jump.
Six Flags New Orleans has been closed since just before Hurricane Katrina struck in August 2005. The theme park is located in Eastern New Orleans, in the Ninth Ward of the city, off Interstate 10.
Since the closing a bunch of film productions have used the park for movie shoots. Most recently the park was used for Dawn of the Planet of the Apes filming. Other films to have shot in the park include Killer Joe featured the wooden rollercoaster Mega Zeph, the Main Street Square section was used to double as the French Quarter in Stolen, and was used in Percy Jackson: Sea of Monsters as Circeland on the island of Polyphemus. The photo above comes from photographer Alan Markfield of Twentieth Century Fox from the Percy Jackson shoot. Here is a gallery of photos from the abandoned park found on IMGUR:
Director Colin Trevorrow told us that the park "sees more than 20,000 visitors every day."
"You arrive by ferry from Costa Rica. It has elements of a biological preserve, a safari, a zoo, and a theme park. There is a luxury resort with hotels, restaurants, nightlife and a golf course. And there are dinosaurs. Real ones. You can get closer to them than you ever imagined possible. It's the realization of John Hammond's dream, and I think you'll want to go there."
OnLocation learned that the production is looking for extras for the Six Flags shoot, so if you live in Louisiana why not apply? Here is the casting notice:"Ebb Tide", a Steven Spielberg film, needs men and women (18yrs-75yrs) who are available to work: 6/6, and 6/9 through 6/13 at Six Flags Park. Pay is $101.50/12 hrs.
If you are available for at least 2 of the dates, please email directly to "EbbTide": your photo, name, email, phone, height and weight to: ebbtidelouisiana@gmail.com.
In the subject line, please put: referred by Robin Batherson. If you've already registered for "Ebb Tide", no need to submit again.