'BoJack Horseman' Trailer: Will Arnett Voices A Drunk Horse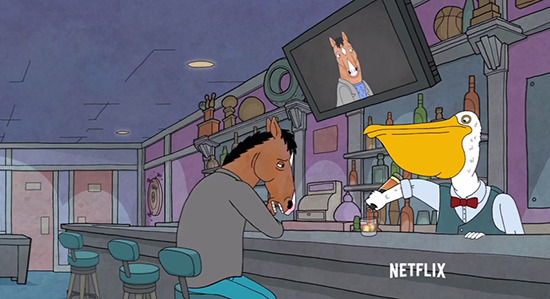 Here's the trailer for the first Netflix original animated series, BoJack Horseman. The show features Will Arnett as the voice of the title character, a horse and former sitcom star who is now washed up and dealing with the downside of fame. OK, mild fame. BoJack is drinking himself into a pit to escape his problems, and trying to deal with human friend Todd (Aaron Paul), feline agent and Princess Caroline (Amy Sedaris), and his human girlfriend (or perhaps ex-girlfriend) voiced by Alison Brie.
The show debuts on August 22; watch the BoJack Horseman trailer here now.
The show comes from Michael Eisner's Tornante Co., and was created by Raphael Bob-Waksberg. It is exec produced by Bob-Waksberg, Steven A. Cohen and Noel Bright, Arnett, Paul. Variety reports that the character was designed by graphic artist Lisa Hanawalt. ShadowMachine handles the animation in Los Angeles.
This trailer is probably not safe for work, due to language.
Meet the most beloved sitcom horse of the '90s ... 20 years later. BoJack Horseman was the star of the hit TV show "Horsin' Around," but today he's washed up, living in Hollywood, complaining about everything, and sometimes wearing colorful sweaters. Starring Will Arnett, Amy Sedaris, Alison Brie, and Aaron Paul. BoJack Horseman, A Netflix original series, launches on August 22 in all Netflix territories.