Walter White's Fate Might Not Be What You Think, Says Bryan Cranston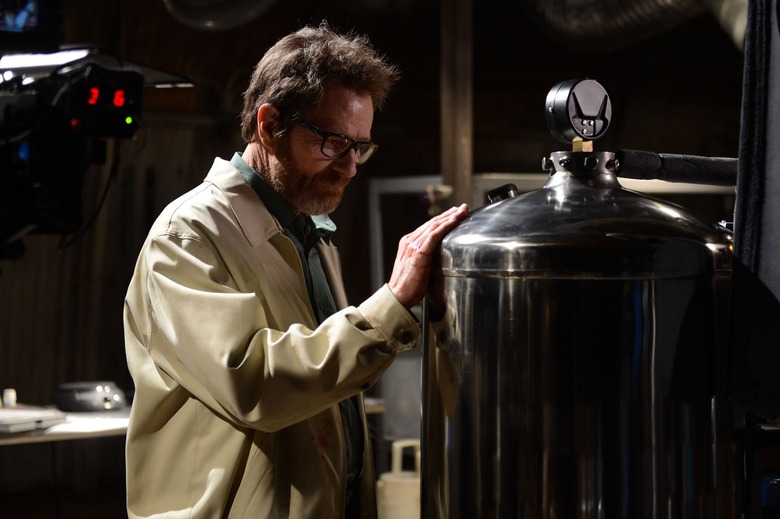 Breaking Bad came to a definitive conclusion last year, but that hasn't stopped fans from clamoring for more. And now, star Bryan Cranston has offered the tiniest sliver of hope to viewers still hoping Walter White will make a comeback.
In a recent interview, Cranston hinted that Walt's fate might not be quite what you thought it was, and confessed that he'd "never say never" to more Breaking Bad. Hit the jump to see what he had to say. (Be warned that major spoilers for the entire series lay ahead.)
Cranston responded that he didn't know if Walter was dead, pointing out, "Hey, you never saw bags zip up or anything." Later in the conversation, when Banfield wondered whether Breaking Bad or Walter White might return in some form, he replied, "Never say never."
Indeed, Walter White could be returning to our lives sooner rather than later. Breaking Bad creator Vince Gilligan has previously suggested that Cranston could cameo in the spinoff Better Call Saul, which premieres later this year.
But a true continuation of Walter White's tale is likely a ways off still — if indeed it's coming at all. Breaking Bad had a great ending for the kind of story Gilligan wanted to tell, and as far as we know there are no serious plans right now to produce another season or a movie sequel.
Moreover, "never say never" is a pretty typical actor response to questions about reprising a popular role. Sometimes, it's a hint that a sequel is in the works; more often, it's just a way for actors to drum up publicity, leave their options open, and/or avoid disappointing fans.
On the other hand, it's not a flat-out "no" and indicates that Cranston, at least, would be up for donning that porkpie hat again. And AMC would probably jump at the chance for more Breaking Bad. If Gilligan comes up with a great idea for Walter White's next chapter, who's to say he couldn't weasel his way out of a near-certain end yet again?
What would you like to see in the (so far purely theoretical) next season of Breaking Bad?