New 'Star Wars Episode VII' Set Photos Reveal Creatures, Vehicles, And Extras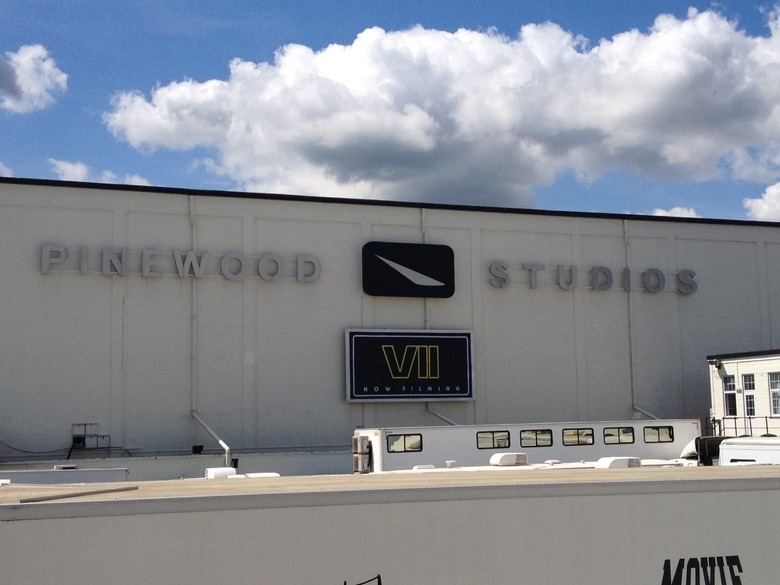 How highly-anticipated is Star Wars Episode VII? Celebrity gossip website TMZ is searching for answers. The site acquired around 40 Star Wars 7 set photos from the recent Abu Dhabi shoot (filming has since moved to stages in London), and in them you'll see some massive new creatures, pieces of new vehicles, and dozens of different extras. There are definitely some spoilers here, but it's pretty exciting stuff.
Beware – if you are trying to stay totally clear of Star Wars 7 spoilers, you probably don't want to see these. There aren't plot points or anything, but there are some reveals.
You can see the photos at this link on TMZ. We won't post them here but we'll discuss below. Spoiler warning.
The big takeaway is the huge rhino/pig creature that's apparently wandering the streets of Tatooine. According to TMZ, "the new alien was manned by 5 men inside it's belly ... and was used in two scenes taking place in what looks like a Tatooine marketplace." You can also see some massive scraps from ships, what may be some kind of restaurant (UPDATE – which may be based on the art of Ralph McQuarrie), and a burning fire. The rest of the photos are selfies of Star Wars extras, something J.J. Abrams is probably none too happy about.
Spoiler-phobes are probably gone by now, so here's TMZ's tweet for an idea.
Star Wars Episode VII Spoilers — Super Secret Pics FROM THE SET! http://t.co/2jdkwttNDZ

— TMZ (@TMZ) June 2, 2014
What's going on in these photos? Honestly, it doesn't seem like much. Surely John Boyega and Daisy Ridley were walking around these sets, talking about something or other, but without them or video, it's impossible to guess. In fact, we can't be sure this is Tatooine at all. While Tatooine is an important, well-known planet, there are probably other desert planets in a galaxy far, far away. Still, it's probably Tatooine.
Star Wars Episode VII opens December 18, 2015. What do you think of these Star Wars 7 set photos?