James Cameron Talks New 'Terminator' Movies: He's "Loosely Attached" But Won't Get Credit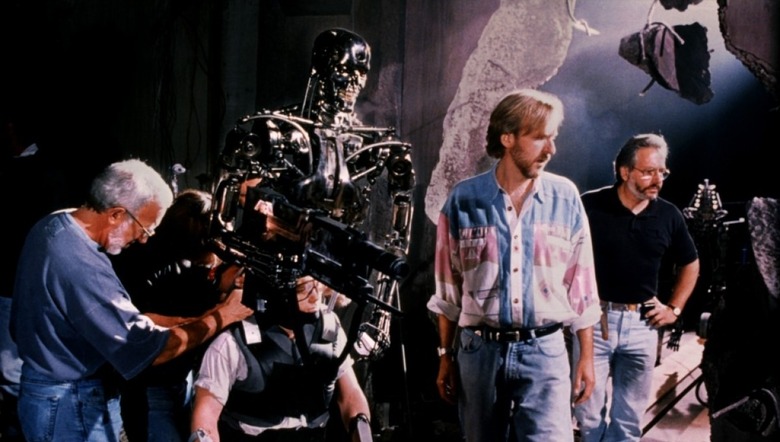 With a new Terminator movie currently in production, the filmmakers certainly looked back and what worked, and what didn't, in the franchise. The good stuff can largely be attributed to one man, James Cameron, the original creator, co-writer and director of the first two films. Everything since then? Not so much.
However, Cameron doesn't have any stake in the new Terminator movies because he sold the rights several decades ago in order to get the first movie made. That ended up being a blessing and curse for the director. It got the film made and kickstarted his hugely successful career, but he left lots of money on the table because he didn't have any legal ownership.
At a recent Q&A at the Hero Complex Film Festival, Cameron talked about that balance. He also said David Ellison, who currently controls the rights and is producing the new film with Paramount, had some conversations with him about the new movies. Cameron calls himself "loosely attached" though he won't get credit and says his biggest contribution is the focus on Arnold Schwarzenegger's character. There was also a point several years ago where Cameron could have bought the rights back, and didn't.
Read his full quote below.
Here's Cameron's quote from the Los Angeles Times' Hero Complex Film Festival:
I pay attention to [the new Terminator films] but I'm not terribly concerned about it one way or the other. I've had to let it go. There was a point in time where I debated going after the rights. Carolco Pictures, the company that produced Terminator 2, was failing and in bankruptcy and the rights were in play. I talked briefly to 20th Century Fox about it. At a certain point, I think I was finishing Titanic at the time and I just felt as a filmmaker maybe I've gone beyond it. I really wasn't that interested. I felt like I'd told the story I wanted to tell. I suppose I could have pursued it more aggressively and gone to the mat for it but I felt like I was laboring in someone else's house in a sense because I had sold the rights very early on.Basically I went from being a truck driver to being a film director and part of my dues paying was that I sold the rights to Terminator for a song, essentially, in order to keep myself attached as a director. And the outcome was fine. The rest of my career really hinged upon that. But I no longer had control of it. I thought why don't I just create my own new thing that I would have control over the IP. So I kind of let it go and in the act of letting it go, I now have to live with the consequences of that — which is I can't get too emotionally involved in it.Now having said that — when the new round of Terminator films, they're making the first one and I think there's meant to be two (EDITOR'S NOTE: It's supposed to be three), when Megan Ellison bought the rights, she asked me if I wanted to be involved. I said "Well look. I don't mind standing behind the curtain and whispering like some court advisory in 15th century Italy or something." My goal in that was not to insinuate myself artistically but to try to make sure they stayed true to the Terminator character and the idea of Arnold being in it. Because he's a friend of mine and we've been through all the wars together and everything. And I wanted them to see the possibilities I saw for what they could do with this character.And then David Ellison took the project over from Megan and he and I met a couple times. And so Arnold is very much front and center in the new Terminator films. So I might have had some tiny effect on it — but obviously they had to make the right financial and creative decisions themselves so I'm not trying to take credit for the film that they're making but that was my goal in being loosely attached to the film but I won't have any credit on it.
I think for Terminator fans, the fact Cameron at least got to put a glimmer of insight into the film is probably a nice feeling. As for what else the films will hold, Terminator Genesis opens July 1, 2015.