'The Green Inferno' Trailer: "You Know What This Is"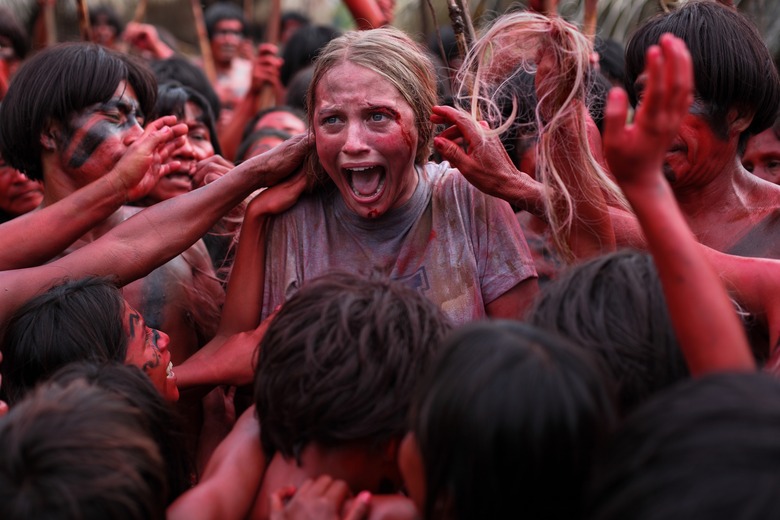 In The Green Inferno, from director Eli Roth, a bunch of idealistic college kids head to South America in order to stop rapid deforestation in a region where native settlements are threatened by the aggressive movements of a rapacious company. The kids, of course, have no idea what they're really getting into. Nor do they have any real conception of how the situation was engineered to put them in place to "do some good work." And so they get down there, and as this new Green Inferno trailer shows, things go wrong. And then they go really, really wrong. 
The backdrop of the film, before the crazy cannibalism stuff even starts, is why I like The Green Inferno. It is cynical and mean. It presents many of its characters are either jerks or idealistic dummies, and doesn't shy away from encouraging the audience to enjoy the grimy comeuppance of the worst of them. It's basically a comedy for misanthropists, and sometimes that's exactly what a mood calls for.
The Green Inferno opens on Sept 5. Trailer via Yahoo.
THE GREEN INFERNO, directed, co-written, and produced by Roth (HOSTEL, CABIN FEVER), follows a group of student activists who travel from New York City to the Amazon to save the rainforest. However, once they arrive in this vast green landscape, they soon discover that they are not alone...and that no good deed goes unpunished. Starring Lorenza Izzo, Ariel Levy, Daryl Sabara, and an indigenous South American tribe never filmed before, THE GREEN INFERNO will be in theaters everywhere September 5th.