'Dawn Of The Planet Of The Apes' Japanese Trailer Has Some New Footage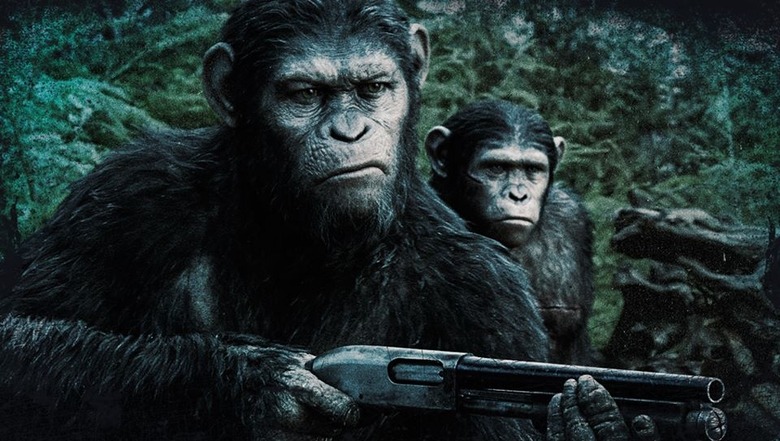 There's a new Dawn of the Planet of the Apes trailer, from Japan, and it has some new footage. Not a lot, but enough. The film looks like one of the more promising events of the summer, not only because it follows on the unexpectedly good Rise of the Planet of the Apes, but because the cast and story we've seen so far from this sequel seem to be pushing in just the right direction. So we'll take any new look we can get. Check out the footage below.
Most of the new stuff here seems to be of Jason Clarke and Caesar, and some of the apes at home. But it's that dynamic between Clarke and Caesar that will be hugely important to the film, as awesome-looking as all the "apes at war" stuff may be. (OK, I'll admit that it's the shots of apes on horseback, carrying guns into ruined San Francisco that really has me ready to see the film. But the last movie was carried on the dramatic weight of Andy Serkis' performance as Caesar, and I'm eager to see how the character has developed since we saw him last.)
Dawn of the Planet of the Apes hits theaters on July 29. Gary Oldman, Keri Russell, Toby Kebbell, Kodi Smit-McPhee, and Judy Greer also feature in the cast. Check out the great performance capture footage we recently got hold of, as well as the most recent full US trailer.
This trailer via BAD.
A growing nation of genetically evolved apes led by Caesar is threatened by a band of human survivors of the devastating virus unleashed a decade earlier. They reach a fragile peace, but it proves short-lived, as both sides are brought to the brink of a war that will determine who will emerge as Earth's dominant species.